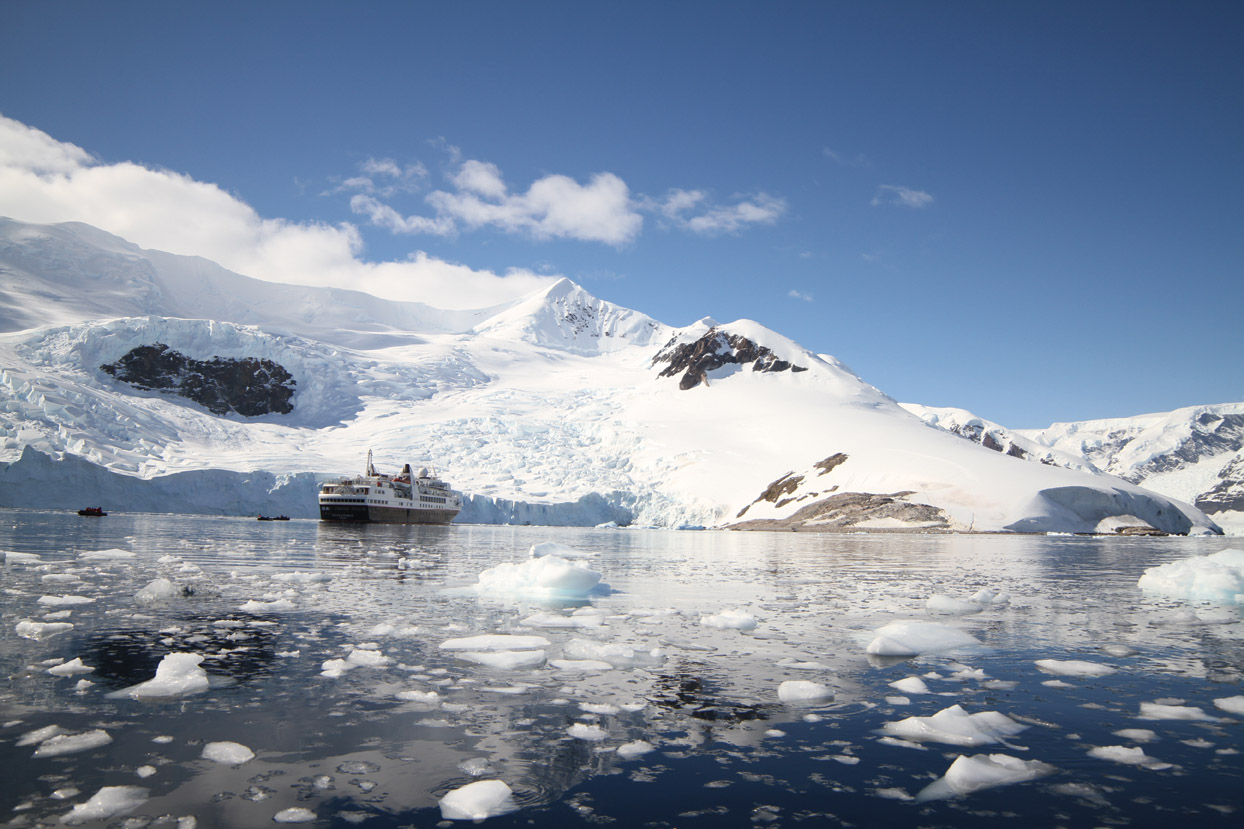 Silversea Cruises - Antarctica Bridge
Fly in style to the last continent and indulge in 100% Antarctic beauty. Antarctica can be closer than you think. Skip the Drake Passage to fly Business Class from Punta Arenas straight to Antarctica. Let Silver Explorer take you across the continent, immersed in the otherworldly beauty of the most extreme latitudes on the planet.
Start your cruise in the heart of Antarctica. Fly Business Class from Punta Arenas and skip the Drake Passage. Just one of the many advantages of the Antarctica Fly'n'Cruise.
4
Results Found
2021 Silversea Cruises
Sail
Date
Nights
Cruise
Ship
Departing
From
Brochure
Price
Our
Price
You
Save
Dec 11
6
Silver Explorer
$15,930
$
Dec 17
6
Silver Explorer
$15,750
$
Dec 23
6
Silver Explorer
$16,650
$
Dec 29
6
Silver Explorer
$16,650
$
Terms and Conditions
1.0 All Silversea Antarctica Fly/Cruises Due to the nature of Silversea's Antarctic Fly/Cruise program where weather conditions may delay or require a cancellation of the remaining itinerary after 3 days of attempts to operate flights: SILVERSEA WILL OFFER PASSENGERS A FULL REFUND ON THE CRUISE FARE IN THE EVENT OF TRIP INTERRUPTION IF THE PRIVATE ANTARCTICA FLIGHT IS NOT ABLE TO TAKE OFF BY 14:00 HRS (2:00 PM) OF THE FINAL DAY OF ATTEMPTS. The interruption policy for Silversea's Antarctic Fly/Cruise program is set forth in the Contingency Plan below. 2.0 Contingency Plan: Silversea's Antarctic Fly/Cruise program Silversea will make every effort to ensure the Antarctic Fly/Cruise program takes place, but due to weather conditions, flying in this region can be difficult and is beyond the control of Silversea. The following table illustrates the last itinerary day on which an attempt will be made to fly: Itinerary Name Itinerary Days Day 2 Last Itinerary Day for Flight Attempts Antarctic Fly/Cruise 10 Days Arrival in Punta Arenas Day 5 – 14:00 (2:00 PM) In the rare instance where on the final day for flight attempts the flight was still not successfully completed, Silversea has the right to interrupt the trip. Silversea reserves the right to extend the final attempt day if weather conditions are improving. If the trip is interrupted,: SILVERSEA WILL PROVIDE A FULL REFUND FOR THE FULL CRUISE FARE. No refund will be provided if the flight is successfully completed regardless of which day of the itinerary it was executed. International airfare, domestic airfare, and any additional services purchased or change fees, will not be refunded by Silversea, unless purchased through Silversea. For cruise only guests with independent air, hotel or other travel services, Silversea will provide a trip interruption letter to be submitted by the passenger to their insurance company for airfare, change fees, and other expenses incurred due to the trip interruption. Silversea will issue the cruise fare refund back in the same form/medium in which payment was received. FOR CRUISE ONLY GUESTS WITH INDEPENDENT AIR, HOTEL OR OTHER TRAVEL SERVICES, SILVERSEA STRONGLY RECOMMENDS THAT ALL EXPEDITION GUESTS PURCHASE A TRAVEL INSURANCE POLICY INCLUDING TRIP DELAY, CANCELLATION AND INTERRUPTION INSURANCE. Please ask your Travel Agent or Silversea Cruise Consultant about Silversea Travel Insurance options. In addition, Silversea will attempt to re-book passengers on the same itinerary or another Silversea vessel in the area with availability. However, in not all cases is this possible as there may not be any available cabins or voyages remaining. 2.1 Contingency Plan Itinerary Day 2: Silversea reserves the right to send passengers on the private Antarctica flight the evening prior to the scheduled day. This may happen when we see a weather system that could cause a delay on subsequent days. It is for this reason that we request all passengers to arrive in Punta Arenas (PUQ) no later than 15:00 HRS (3:00 PM) on Day 2. There will be no refunds for passengers who miss the charter plane departure due to an arrival in Punta Arenas airport (PUQ) after 15:00 HRS (3:00 PM). Day 3, 4, 5: For each day of the itinerary after Day 2, if there is a delay, all guests will be briefed by the Silversea Expedition staff on the flight status. Often times we are waiting for a weather window to depart and could be required to leave with very little notice. All guests and staff will be on stand-by until approximately 14:00 HRS (2:00 PM). During the stand-by period, you must be at the airport, or at another location designated by the Silversea Expedition staff to be ready to go if and when a suitably long weather window becomes available. If by 14:00 HRS (2:00 PM) the flight remains delayed, you will be returned back to your respective hotels or you may choose to join additional excursions for the afternoon compliments of Silversea. Silversea will provide complimentary guided tours to sites of historic, cultural or wildlife interests. Silversea will provide additional night(s) hotel accommodation and meals. Silversea reserves the right to make exceptions to the timing guidelines outlined in this section. 2.2 Priority of Flight Departure In some cases, there are instances where more than one operator is waiting for a weather window to fly passengers to King George Island using the same charter planes. In these cases, the priority is given to the passengers who were first delayed. The charter flight operator is contractually bound to respect the priority in which delays occurred. 2.3 Last Itinerary Day for Flight Attempts In the event that the charter flight is unable to fly on the final itinerary attempt day for any reason by 14:00 HRS (2:00 PM) on Day 5: Silversea will officially interrupt the voyage and provide a full refund for the full cruise fare. In order for cruise only passengers with independent air, hotel and other travel services to obtain reimbursement for their airfare and potentially other costs to change flights, Silversea will provide trip interruption letters for all clients to submit to their travel insurance providers under the trip delay/interruption and cancellation clause (provided passengers have included airfare to be covered in their travel protection plan). Any additional hotel nights and meals will be the responsibility of the guests. Silversea reserves the right to make exceptions to the timing guidelines outlined in this section. 2.4 Returning Passengers Passengers on board the ship during these delays will remain on board at no additional cost until the time in which the private Antarctica flight is able to arrange transport. Silversea advises all clients with independent air, hotel and other travel services to book changeable airlines tickets along with cancellation and interruption insurance to assist with additional airline change fees. We advise all passengers with independent air, hotel and other travel services to have flexible travel arrangements upon disembarkation of the voyage if delays arise. For guests with independent air, hotel and other travel services, Silversea will not be held responsible for any change/cancellation fees due to weather related delays or any other delays arising from force majeure; no refund will be issued for any reason whatsoever. At the discretion of Silversea and/or the ship's Master, reserve the right to sail the Drake passage to a port of call for any reason. FOR CANCELLATION DUE TO ALL OTHER EVENTS OF FORCE MAJEURE, THE STANDARD NON-CONTINGENCY PLAN TERMS AND CONDITIONS OF SILVERSEA SHALL APPLY. International Flight: Reduced Air Fares in Business Class available from select U.S. and Canadian gateways. Air offer applies to new bookings made between 3 June, 2020 and 31 July, 2020 and at least 60 days prior to departure. Offer for bookings made within 60 days of departure will be on request and pricing may vary. Business Class is only applicable to the transoceanic portion of the international flight itinerary; Economy Class will be substituted when Business Class is not available. Airfares are capacity controlled, subject to availability and may be modified or discontinued at any time without notice. Offer applies to the first two full-fare guests per booking. Airline and routing are at the sole discretion of Silversea. Due to flight schedules, some voyages may require an overnight hotel stay post-cruise; available at an additional charge. Full passport information is required at time of booking and name changes are not permitted. In the event neither Business Class nor Economy Class air is available (determined at Silversea's sole discretion) or for clients booking "cruise only" or for non-American/Canadian guests, a non-use Air credit in the amount of USD 1,000 / CAD 1,250 per person may be applied to your booking. Cancel/re-books do not qualify. All fares, savings, offers, itineraries and programs are subject to change without notice. Voyage highlights, excursions and enrichment programs are subject to change and/or cancellation without prior notice. All information contained herein is accurate and in effect at time of publication. Silversea reserves the right to correct any errors and omissions, and to cancel any offered product or service in the event of such error or omission. Additional restrictions may apply. Ships' registry: Bahamas.