Alaska Cruises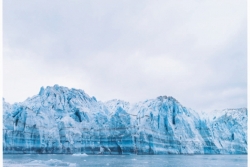 An Alaskan Cruise maybe the ultimate experience as you travel through some of the most pristine, ecologically unspoiled areas left on the planet. Your Alaskan Cruise adventure along the inner passage allows you to stay in almost constant sight of the rugged landscape and natural ocean wildlife of this great land from either side of the ship.
As you cruise into Glacier Bay National Park, one of Alaska's main attractions, you will marvel at the astounding sound of "white thunder," as ancient ice age glaciers "calve" off massive segments of icebergs into the tidal waters below.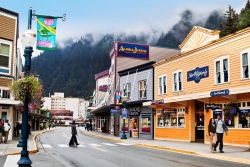 When your Alaskan Cruise stops in Ketchikan, the self-described salmon capital of the world, shop along iconic Creek Street for interesting native shopping items, and don't miss the Totem Heritage Center. While in Juneau, the state capital, visit the city's historic center, clustered around the water front, and make sure you leave time to stop into the famous old Red Dog Saloon, the favorite hangout of Alaska's early "sourdough" settlers. Drift back in time to the days of the gold rush, as you walk the historic wooden sidewalks of Skagway that front along its lovingly restored storefronts. Sitka is the only Inside Passage community where your Alaskan Cruise ship will actually port on the Pacific Ocean. Recognized as the heart of the Russian influence in the Inside Passage, this was the site of the official transfer ceremony when Russia sold Alaska to the United States in 1867. "Seward's Folly" may have been there greatest real estate investment of all time. As your Alaskan Cruise ship enters Prince William Sound and sails up College Fjord, you will be mesmerized by the enormity of Hubbard Glacier, the longest tidewater glacier in Alaska.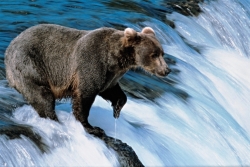 Your Alaskan Cruise will finally port in Seward just outside of Anchorage. But do not allow your Alaskan Cruise adventure to end here, for this is just the beginning of the most astonishing visual experience you will ever have. From this point, most cruise lines will offer various land tours and overnight lodg ing accommodations in Alaska's most popular inland destination, the massive six million acre, Denali National Park and Preserve. With the 20,320 foot monumental Mt. McKinley serving as a majestic backdrop, you will be able to view foraging brown bears, gigantic moose and herds of wild caribou grazing on the meadow grasses under the watchful eyes of circling bald eagles.
Alaska Cruises Deals
Alaska Cruises Departure Ports
Alaska Cruises Cruises