Australia and New Zealand Cruises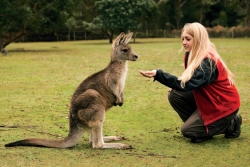 Your cruising adventure of Australia and New Zealand, known affectionately by its residents as the "World Down Under," will be a vibrant and exhilarating experience of exciting cities, magnificent beaches, living ecosystems, glacier formed fjords, and rugged coasts carved out over millions of years by the crashing waves of the Pacific Ocean.
Try to plan your arrival a day or two before your scheduled cruise departure date from Auckland so that you have time to view the city from the Sky Tower, or if you are brave enough, do the Skywalk where the view looks better without the windows. Visit Rangitoto Island and its lava caves. Take a private cruise through the sparkling blue waters and emerald islands of Hauraki Gulf.
As your cruise departs Auckland, you will head south along the eastern coast to Western Bay, famed for its sun, sand, surf, kayaking and game fishing. Then cruise on to Wellington and the famous Zealandia Sanctuary, home to some of New Zealand's most rare and extraordinary wild life, thriving wild in a world-first protected sanctuary valley. Cruise further south in view of New Zealand's highest peak, Mount Cook and onto the country's second largest city, Christchurch. From there you will cruise into Milford Sound, carved out by glacial ice, whose mountains stand tall, straight out of the sea. Get your camera and keep your eyes peeled for bird and wildlife sanctuaries and the sunbathing seals on Seal Rock.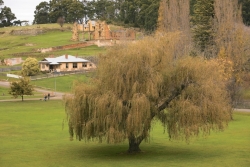 As you cruise the Tasmanian Sea, your next stop will be Hobart, Tasmania, home of the fabled Tasmanian Devil. While there, visit the famous MONA Museum. Leaving your cruise ship for a tour of the city of Melbourne, you can start at Federation Square with its events, restaurants, and shopping venues and galleries. Next take in the Healesville Sanctuary and watch for waking koalas and peek at a joey in a kangaroo's pouch, all in an Aussie bush setting. You might want to travel the great Ocean Walk from Apollo Bay to the magnificent 12 Apostles along the rugged south coast.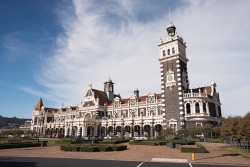 Departing Melbourne, your cruise now takes you up the Eastern Shore of Australia, to the magnificent sights of Sydney's harbor. As the great Harbour Bridge and the exquisite architecture of the famed Sydney Opera House come into view, your camera shutter should be clicking as rapidly as possible. Just a short distance from the sights and sounds of the city, you can travel to Bondi, one of the world's great beaches, where ocean and land collide in breathtaking foaming waves, perfect for swimming and surf boarding, or walk from Bondi to Bronte along the spectacular sea cliffs. Return to the city and enjoy fine dining along the Woolloomooloo finger wharf.
All in all, a cruise of the "World Down Under," will leave every visitor with a cache of memories of one of the most beautiful places in the world.
Australia and New Zealand Cruises Deals
Australia and New Zealand Cruises Departure Ports
Australia and New Zealand Cruises Cruises