Asia Cruises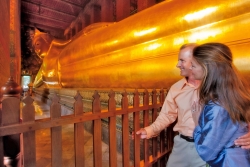 A Southeast Asia Cruise will lay out a vibrant kaleidoscope of sights and sounds of a region that is one of the most physically and culturally diverse parts of the world. Passengers will long remember the area for the warmth of its tropical climate, hospitable people, and flavorful cuisine.
Your Southeast Asia cruise will thread its way among the various straits that wind through the Java Sea. A visit to Bali means that you are in the most visitor-friendly island of Indonesia. Multi-tiered rice terraces, pulse-pounding surf, enchanting temple ceremonies, majestic dance performances and ribbons of beaches are just some of the images you will cherish forever.
With Singapore on your Southeast Asia Cruise itinerary, you will experience a microcosm of Asia, populated by Chinese, Maylays and Indians. Visitors to Singapore can bust their baggage allowance in shopping meccas like Orchard Road and Suntec City. Singaporean food is legendary, with bustling hawker centers and 24-hour coffee shops offering cheap food from all parts of Asia.
As your Southeast Asia cruise enters the South China Sea, it heads north into the Gulf of Thailand, headed for Bangkok. A very large cosmopolitan city, one of the most popular attractions is the serene Temple of the Reclining Buddha, which measures 150 feet in length. Traveling around the city to the various shopping centers and entertainment complexes is made easy by using the Sky Train to almost any point in the city, than take a cab to your destination.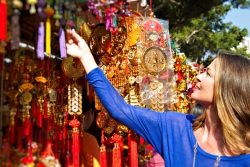 Leaving Bangkok, your Southeast Asia cruise heads for Vietnam, around the tip of the Mekong Delta region into Ho Chi Minh City. This is a hustle bustle atmosphere, where a swarm of motor scooters traverse the city by the thousands. There are great shopping opportunities during the day and a vibrant night life after dark. Heading north to Hanoi, you will find a city with a blend of Parisian grace at an Asian pace. Travel through the old city where hawkers in conical hats sell their wares. There is still the smell of French banquettes and café lattes still permeate the street corners.
The Southeast Asia cruise ship will depart Hanoi, traveling the South China Sea, then through the Hainan Strait, setting its course for Hong Kong. Hong Kong, forever known as the "Pearl of the Orient," is a city where millions come to savior its culinary delicacies, hunt for extraordinary shopping bargains, and soak up the energy of its electrifying nightlife.
An Asian cruise is not so much an ocean adventure, as it is an opportunity to use the major ports of Shanghai and Beijing in China; and the ports of Nagasaki, Osaka, and Tokyo in Japan as major gateways that open up incredible vistas to a dynamic, modern and vibrant Orient without forgetting the tranquility of its ancient history. Most Asian cruise itineraries will leave two to three days in port to accommodate the many dynamic land adventures that are available and can be booked on a pre-or-post cruise basis through your travel agent.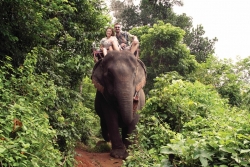 An Asian cruise stopover in Shanghai, which has emerged as the economic center of modern China, is also a stepping stone to the ancient Chinese dynasties and their treasure-trove of archaeological wonders. One of the most marvelous sensations is the burial site of the first Qin emperor; where over 8,000, life-size, terra cotta warriors still guard his tomb 2,200 years after his death. As you leave your Asian cruise ship in Beijing, you can start your tour at Tiananmen Square and the Forbidden City. A visit to the Chonghua Palace is a most. But, of course, no Asian cruise would be complete without a visit to the most legendary structure in all of China, the Great Wall.
Once your Asian cruise ship has docked in Nagasaki, you can take the famous bullet train to the cities of Kyoto and Nara to explore the serene beauty of these two former imperial cities with their many ancient temples and palaces. While visiting Osaka, you can take a ride on the enormous Hep Five Ferris Wheel, built into the upper floors of a shopping mall in the middle of the city giving visitors a great panoramic view of this vibrant city. Your Asian cruise may end in Tokyo, but you may also have the opportunity to overnight on the ship. For sightseeing, take the bullet train to Japan's iconic Mt. Fuji, and of course save your final evening for a visit to the famous Ginza, with all of its brilliant florescent lighting and shopping indulgences.
Asia Cruises Deals
Asia Cruises Departure Ports
Asia Cruises Cruises