This Promotion Has Expired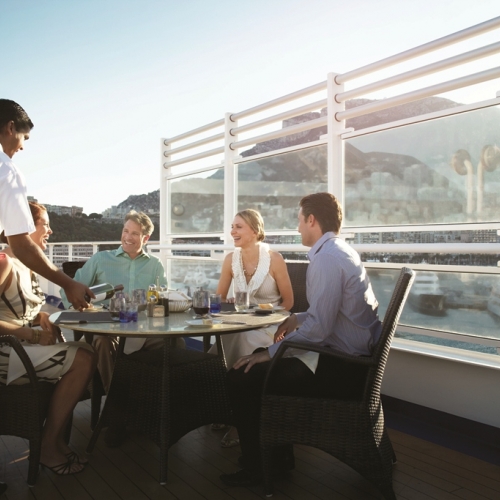 Silversea Cruises - All-Inclusive 2016
Silversea's All-Inclusive Packages On 2016 Mediterranean, Asia and Africa Voyages
Now Silversea offers a choice of the most exclusive all-inclusive or cruise-only fares available on featured 2016 voyages to the Mediterranean, Asia and Africa. Our new all-inclusives feature a deluxe hotel stay or luxury safari, plus flights, transfers, shore excursions — almost everything. Or if you prefer to make your own plans, book just the cruise and you'll still enjoy free shore excursions.
Come experience small ship cruising at its most divine aboard the ultra-luxury ships of Silversea. Discover the highly personalised style of travel that discerning travellers prefer. The camaraderie of like-minded guests in the open bars and lounges. The spacious suites with butler service and award-winning cuisine. The almost infinite choice of land programmes that put the world at your feet. And now that you can also choose the kind of experience you prefer, small-ship cruising has become even more divine. Because choice is the greatest luxury of all and only available at Silversea.
2016 MEDITERRANEAN, ASIA AND AFRICA VOYAGES ALL-INCLUSIVE FARES INCLUDE:
FREE SILVER SHORE SELECT EXCURSIONS
Our free excursions use the best local guides to introduce you to the region. You're free to experience the highlights of every port of call while enjoying the ultimate in pampering that is uniquely Silversea's.
FREE WIFI FOR EVERY GUEST
Free your imagination as you stay connected with your world without costly internet fees. our all-inclusive fares include one free hour of wifi per day, per guest, with select suites receiving unlimited free wifi.
BECAUSE CHOICE IS THE GREATEST LUXURY, YOU MAY ALSO UPGRADE YOUR FARE BY ADDING:
INCLUDED AIRFARE & TRANSFERS
Silversea's air package to the Mediterranean, Asia and Africa includes complimentary roundtrip Economy Class air from over 50 U.S. and Canadian gateways as well as transfers between airport, hotel and your Silversea ship. or you can upgrade to Business Class Air from just $2,749 each way to Cape Town, $2,749 each way in Asia, or $999 each way in the Mediterranean.
INCLUDED 2-NIGHT PRE-CRUISE HOTEL OR 3-NIGHT LUXURY SAFARI
Enjoy two nights in a deluxe hotel before you embark allowing you time to see a few sights in one of the Mediterranean's or Asia's most exciting cities. Or choose Voyage 1635 or 1636 and you'll spend one night in a deluxe hotel in Nairobi and two nights at the legendary Mount Kenya Safari Club, playground for the international jet set. Or embark on Voyage 1637 and after an overnight in Johannesburg, enjoy game drives at Kruger National Park, home of the Big Five.
1
Results Found
1969 Silversea Cruises
Sail
Date
Nights
Cruise
Ship
Departing
From
Brochure
Price
Our
Price
You
Save
Terms and Conditions
Fares represent the all-inclusive package prices, are shown in US dollars based on double-occupancy in a Vista suite and include Silver Shore Select Excursions and one hour of complimentary WiFi per guest/per day and unlimited WiFi for guests sailing in select suite categories; applies to new bookings made on or after December 16, 2015 only. Fares are capacity controlled and subject to change at any time without notice. Silver Shore Select Excursions are offered on a first come first served basis, in every port of call at no additional charge. Depending on tour timing, up to two Silver Shore Select Excursions may be taken per day. For a complete list of all Silver Shore Select Excursions go to Silversea.com. Additional shore excursions are available for purchase; standard cancellation penalties apply. Capacity is limited on all shore excursions including Silver Shore Select Excursions and guests' first choice may or may not be available. Silversea reserves the right to cancel any shore excursions including Silver Shore Select Excursions. No credit or other compensation will be given if Silver Shore Select Excursions are cancelled or not utilised. All shore excursions including Silver Shore Select are operated by independent operators over whom Silversea has no control. The all-inclusive package offer including Silver Shore Select Excursions is applicable to voyages 3600 through 3609, 3631 through 3636, 3638, 1635 through 1637, 1628 through 1634, 2626, 2628 through 2629, 2632, 5609 through 5610, 5613 through 5617, 5620 through 5626, 5628 through 5631, and 5633 only (the "All-Inclusive Package"). The first and second full-fare guests in a suite also receive round-trip economy air from select US and Canadian gateways plus two-nights pre-cruise hotel, or pre or post African safari (voyages 1635-1637 only) and applicable transfers on arrival, embarkation and disembarkation days as part of the All-Inclusive Package. The non-cruise portion of the All-Inclusive Package is non-refundable inside of 90 days of the initial sailing date. No refund or credit will be given for cancellation of the non-cruise portion of the All-Inclusive Package, in whole or part, within 90 days of the initial sailing date. Specific hotel or safari camp assignments may not be available at time of booking. Hotel and safari assignments will be confirmed no later than 100 days prior to the initial sailing date. Assignments for room categories are at the discretion of Silversea. All other standard cancellation polices will apply to the cruise portion of the All-Inclusive Package. Promotional Business Class Air: Rate shown is each-way based on round-trip travel from select U.S. and Canadian gateways. Business Class is only applicable to the transoceanic portion of the international flight itinerary; Economy Class will be substituted when Business Class is not available. For all Air Packages, Silversea reserves the right to select the air carrier, routing and departure airport from each gateway city. Promotional Air Packages are available only to the first and second full-fare guests in a suite; airline baggage fees are not included. Deviations to air travel dates are accepted at a charge of $100 per request plus all additional air costs. Due to flight schedules, some voyages may require an overnight hotel stay post-cruise. This will be available for booking at an additional charge.