This Promotion Has Expired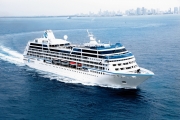 Azamara Cruises - $1,000 Onboard Credit, $1,000 Air Credit, or Free Stateroom Upgrade
Choose One Offer
Free $1,000 Onboard Credit per Suite
or
Free $1,000 Air Credit
or
Free Stateroom Upgrade
We couldn't decide which offer you would like the most. So we are leaving the decision all up to you as part of our Choices, Choices, Choices promotion. Book an Azamara voyage between February 1 and March 31, 2014, and you can select the offer you would like included. So, you can have your cake and eat it too.
1
Results Found
1969 Azamara Club Cruises
Sail
Date
Nights
Cruise
Ship
Departing
From
Brochure
Price
Our
Price
You
Save
Terms and Conditions
Choices Promotion: This promotion offers a choice between a $500 per person ChoiceAir credit, $500 per person Onboard Credit, or a one stateroom category upgrade (Club Oceanview at Club Interior prices, or Club Veranda at Club Oceanview prices). Bookings must be created at standard fares between February 1 and March 31, 2014. Guests one and two in a stateroom must select the same option and selection must be made by March 31, 2014. Enter promotion code CHOICES CHS for ChoiceAir credit, CHOICES OBC for Onboard Credit, or CHOICES UPG for upgrade at the time of booking creation. Visit AzamaraClubCruises.com/Choices for full listing of applicable sailings. Offer is applicable to new individual bookings and to staterooms in non-contracted group bookings with staterooms named and fully deposited during the offer period. Choices promotion is combinable with back to back savings, onboard booking savings, CPP program, reduced single supplements, and up to one other OBC program. The promotion is not combinable with any other program, promotion or discounted rates. Single bookings paying 200% supplements qualify for the full amount. Offers are subject to change and may be withdrawn at any time without notice. Certain restrictions apply. Read below for further details for each individual component of this offer. $500 ChoiceAir® Credit (CAC) is per person, in USD, not redeemable for cash, and is based on round-trip flights from select U.S. and Canadian gateways. Promo code CHOICES CHS must be entered at the time of booking to select this option. Air has to be booked through ChoiceAir®. Air credit will be applied against cruise fare after ChoiceAir® flights are added to the booking. CAC is not available for 3rd and 4th guests in a stateroom. Certain gateways may not be available on all voyages. Full details for ChoiceAir® are available at AzamaraClubCruises.com/ChoiceAir. $500 per person Onboard Credit (OBC) is in USD, based on double occupancy, has no cash value, is not redeemable for cash, is not transferable and will expire if not used by 10:00 PM on the last evening of the voyage. Onboard credit cannot be used in the Casino or for future cruise bookings. OBC is not available for 3rd and 4th guests in a stateroom. Promo code CHOICES OBC must be entered at the time of booking to select this option. One category upgrade allows guests to book Club Veranda staterooms at Club Oceanview prices or Club Oceanview staterooms at Club Interior prices. Promo code CHOICES UPG must be entered at the time of booking to select this option. Bookings must be made in desired category, which will be priced at the lower fare after entering the code. Club Veranda will be priced at category 08 Club Oceanview rate and Club Oceanview will be priced at category 12 Club Interior rate. AzAmazing EveningsSM events are complimentary, and available on most sailings. A few select itineraries may not feature ports conducive to such events, in which case the AzAmazing EveningsSM event will be held onboard. A refund will not be given if you do not attend, or if the event date, port, venue or program changes, or the event must be cancelled or changed for any reason by Azamara Club Cruises®. All AzAmazing EveningsSM dates, ports, venues, and programs are subject to change without notice. Because Azamara Club Cruises® incurs costs for each participating guest, we ask that you let us know by no later than 10:00 PM the previous day if you decide not to attend. Confirmed guests who do not cancel by this deadline and do not show up, will be assessed a cancellation fee of $100 per person. Onboard Credits (OBC's) cannot be used to pay for cancellation fees. If you do not pre-book the AzAmazing EveningsSM event online but decide to participate once onboard, you may sign up until the morning of the event, space permitting. To be sure there is room for you, we encourage you to sign up before boarding. © 2014 Azamara Club Cruises®. Ships' Registry: Malta.