85-Night Crystal Serenity Los Angeles / San Pedro to Monte Carlo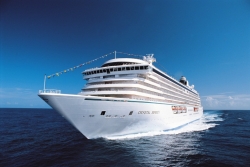 Speak to a Crystal Cruise Expert now
1-888-313-8883Toll-free
1-727-906-0444International
Cruise Line:
Voyage #:
OCY190113-85
Cruise Ship:
Destination:
Sailing:
January 13th - April 8th, 2019
Prices From:
$26,285 You Save 60%
Special
Bonus Offers:
Cruise Itinerary
Get Best Price
Day/Date
Port
Arrive
Depart
Jan 13, 20191
Los Angeles / San Pedro, California, USA
Embark pm
Jan 142
Los Angeles / San Pedro, California, USA
6 pm
Jan 153
Day at Sea
Jan 164
Day at Sea
Jan 175
Day at Sea
Jan 186
Day at Sea
Jan 197
Day at Sea
Jan 208
Honolulu, Oahu, Hawaii, USA
8 am
12 m
Jan 219
Lahaina, Maui, Hawaii
8 am
10 pm
Jan 2210
Day at Sea
Jan 2311
Day at Sea
Jan 2412
Fanning Island
9 am
6 pm
Jan 2513
Day at Sea
Jan 2614
Day at Sea
Jan 2715
Pago, Pago
9 am
6 pm
Jan 2916
Jan 3017
Day at Sea
Jan 3118
Lautoka, Fiji
7 am
5 pm
Feb 0119
Day at Sea
Feb 0220
Day at Sea
Feb 0321
Waitangi, Bay of Islands, New Zealand
8 am
6 pm
Feb 0422
Auckland, New Zealand
8 am
12 m
Feb 0523
Auckland, New Zealand
12 m
6 pm
Feb 0624
Day at Sea
Feb 0725
Day at Sea
Feb 0826
Sydney, Australia
5 pm
12 m
Feb 0927
Sydney, Australia
12 m
6 pm
Feb 1028
Day at Sea
Feb 1129
Hobart, Tasmania, Australia
8 am
12 m
Feb 1230
Hobart, Tasmania, Australia
12 m
1 pm
Feb 1331
Cruising the Bass Strait
Feb 1432
Kangaroo Island, Australia
8 am
6 pm
Feb 1533
Adelaide, Australia
8 am
9 pm
Feb 1634
Day at Sea
Feb 1735
Day at Sea
Feb 1836
Albany, New York, USA
7:30 am
5 pm
Feb 1937
Busselton, Australia
9 am
6 pm
Feb 2038
Fremantle / Perth, Australia
6 am
6 pm
Feb 2139
Day at Sea
Feb 2240
Day at Sea
Feb 2341
Day at Sea
Feb 2442
Day at Sea
Feb 2543
Day at Sea
Feb 2644
Day at Sea
Feb 2745
Day at Sea
Feb 2846
Mauritius / Port Louis, Republic of Mauritius
8 am
9 pm
Mar 0147
Pointe Des Galets, Reunion
8 am
6 pm
Mar 0248
Day at Sea
Mar 0349
Tôlanaro, Madagascar
7 am
6 pm
Mar 0450
Day at Sea
Mar 0551
Day at Sea
Mar 0652
Maputo, Mozambique
7 am
5 pm
Mar 0753
Richards Bay, South Africa
7 am
9 pm
Mar 0854
Durban, South Africa
7 am
9 pm
Mar 0955
Day at Sea
Mar 1056
Port Elizabeth, South Africa
7 am
6 pm
Mar 1157
Cape Town, South Africa
7 pm
12 m
Mar 1258
Cape Town, South Africa
12 m
12 m
Mar 1359
Cape Town, South Africa
12 m
12 m
Mar 1460
Cape Town, South Africa
12 m
7 pm
Mar 1561
Day at Sea
Mar 1662
Luderitz, Namibia
7 am
4 pm
Mar 1763
Walvis Bay, Namibia
8 am
6 pm
Mar 1864
Day at Sea
Mar 1965
Day at Sea
Mar 2066
Day at Sea
Mar 2167
Jamestown, St Helena
7 am
3 pm
Mar 2268
Day at Sea
Mar 2369
Grand Cayman / George Town, British West Indies
8 am
6 pm
Mar 2470
Day at Sea
Mar 2571
Day at Sea
Mar 2672
Day at Sea
Mar 2773
Dakar, Senegal
7 am
11 pm
Mar 2874
Day at Sea
Mar 2975
Porto Novo, Benin
7 am
6 pm
Mar 3076
Day at Sea
Mar 3177
Day at Sea
Apr 0178
Santo Thomas de Castilla
8 am
5 pm
Apr 0279
Day at Sea
Apr 0380
Málaga, Spain
1 pm
12 m
Apr 0481
Day at Sea
Apr 0582
Barcelona, Spain
8 am
10 pm
Apr 0683
Monte Carlo, Monaco
4 pm
12 m
Apr 0784
Monte Carlo, Monaco
12 m
Apr 0885
Monte Carlo, Monaco
Disembark pm
Crystal Serenity Overview
Cruise Ship Facts: Crystal Serenity
Built:
July 2003
Crew:
655, European
Registry:
Bahamas
Capacity:
1,070
Length:
820 ft
Width:
100 ft
Gross Tonnage:
68,000
Cruise Ship Overview: Crystal Serenity
Crystal Cruises Serenity is the newest of its two ships, having been built in 2003, and completely refurbished in 2011. The 820 foot, 68,000 ton vessel offers an extraordinary array of luxurious accommodations, all with spectacular ocean views. Eighty five percent of its staterooms feature private teak wood verandas. Stateroom sizes vary from the Crystal Penthouse at 1,345 square feet, to the very roomy Deluxe Staterooms that measure 226 square feet. Other choices consists of Deluxe staterooms ranging in size from 269 square feet to 538 square feet. There are designated staterooms for quests with disabilities. All staterooms feature complimentary 24 hour room service, twice daily house keeping with nightly turndown service of the 100% Egyptian linens and are fully equipped with satellite TV and movies on flat panel televisions. To make your stay even more comfortable, all guests are afforded Frette bathrobes, kimonos and slippers, and a choice of pillow options for a perfect night's sleep.
The ship was specifically designed for luxury and comfort, with plenty of open spaces for guests to layout and relax, whether at the pool, or in quiet nook while reading that favorite book. As a Crystal guest, you can indulge yourself on a journey designed to your exact wishes and interests, for with Crystal, the options are endless, and the choices are always yours. With no tips, no tabs and no time tables, Crystal's all inclusive hosts of complementary services offers their guests fine wines and premium spirits throughout the entire ship, without the worry of paying gratuities. You may dine in any of its complementary specialty restaurants featuring the cuisines of world renowned master chefs at no extra charges. Open dining by reservation means you can dine on your own schedule with whomever you wish.
The state of the art fitness center offers a complimentary, "Tour de Spin" ride, which graphically mirrors different stages of the "Tour de France." There are PGA hosted golf clinics available, and guest can walk or jog along the 360 degree Promenade Deck, or pamper themselves at the Feng Shui-inspired Crystal Spa. Guests can also challenge themselves with new hobbies- piano lessons, language or art classes at the ships revolutionary Creative Learning Center Institute offering complimentary classes from Berlitz and Yamaha. They can also take any of the dozens of classes offered in the latest software in the ship's dedicated Computer University at Sea.
The evening hours are filled with numerous entertainment venues from award-winning Broadway-style shows, to the cabarets, piano bars and dance clubs. Then, of course, there is always the Crystal Casino for your gambling pleasures.
Crystal Cruises offers the ultimate in luxury sailing which has made it the most popular choice for the world's most discriminating travelers.
Crystal Serenity Deck Plans
Select a Deck

Crystal Serenity Deck 5: Crystal

Crystal Serenity Deck 6: Tiffany

Crystal Serenity Deck 7: Promenade
C1 Deluxe Stateroom with Large Picture Window
Cabin Details
Cabin Size
226 sq ft (21 sq m)
+Staterooms for guests with disabilities (PH does not include walk-in closet, bidet or third berth)
* Third berth available, as well as in all Penthouses (PH, PS and CP) with the exception of those specifically designed for guests with disabilities (10064/10065)


Connecting staterooms

Crystal Serenity Deck 8: Horizon
B1 Deluxe Stateroom with Verandah
Cabin Details
Cabin Size
269 sq ft (25 sq m)
Balcony Size
43 sq ft (4 sq m)
+Staterooms for guests with disabilities (PH does not include walk-in closet, bidet or third berth)
* Third berth available, as well as in all Penthouses (PH, PS and CP) with the exception of those specifically designed for guests with disabilities (10064/10065)


Connecting staterooms

Crystal Serenity Deck 9: Seabreeze
A1 Deluxe Stateroom with Verandah
Cabin Details
Cabin Size
269 sq ft (25 sq m)
Balcony Size
43 sq ft (4 sq m)
+Staterooms for guests with disabilities (PH does not include walk-in closet, bidet or third berth)
* Third berth available, as well as in all Penthouses (PH, PS and CP) with the exception of those specifically designed for guests with disabilities (10064/10065)


Connecting staterooms

Crystal Serenity Deck 10: Penthouse
PH Penthouse with Verandah
Cabin Details
Cabin Size
403 sq ft (38 sq m)
P1 Deluxe Stateroom with Verandah
Cabin Details
Cabin Size
269 sq ft (25 sq m)
Balcony Size
43 sq ft (4 sq m)
+Staterooms for guests with disabilities (PH does not include walk-in closet, bidet or third berth)
* Third berth available, as well as in all Penthouses (PH, PS and CP) with the exception of those specifically designed for guests with disabilities (10064/10065)


Connecting staterooms

Crystal Serenity Deck 11: Penthouse
CP Crystal Penthouse with Verandah
Cabin Details
Cabin Size
1,345 sq ft (125 sq m)
PS Penthouse Suite with Verandah
Cabin Details
Cabin Size
538 sq ft (50 sq m)
Balcony Size
100 sq ft (10 sq m)
PH Penthouse with Verandah
Cabin Details
Cabin Size
403 sq ft (38 sq m)
+Staterooms for guests with disabilities (PH does not include walk-in closet, bidet or third berth)
* Third berth available, as well as in all Penthouses (PH, PS and CP) with the exception of those specifically designed for guests with disabilities (10064/10065)


Connecting staterooms

Crystal Serenity Deck 12: Lido

Crystal Serenity Deck 13: Sun

Crystal Serenity Accommodations
CP Crystal Penthouse with Verandah
Cabin Size
1,345 sq ft (125 sq m)
Decks
11
Description
Spacious living room , Dining area , Large private verandah , Complimentary wine plus choice of spirits from set menu upon embarkation , Complimentary beer and bottled water in room , Personal butler service , State-of-the-art Bang & Olufsen® sound system , Data port for laptop computer hook-up , Large flat-screen televisions in bedroom, living room and bathroom , Cordless phone , Guest bathroom , Pantry and library , Private workout area , Large bedroom with queen-size bed or twin beds, and third berth , Master bath with Jacuzzi and ocean view , Separate shower and bidet , Walk-in closet , Refrigerator , Security safe , A total of two private car/minivan transfers per voyage from/to the designated airport in the port city of embarkation or transfers to/from other locations within 100 miles of the port city of embarkation

PS Penthouse Suite with Verandah
Cabin Size
538 sq ft (50 sq m)
Balcony Size
100 sq ft (10 sq m)
Decks
11
Description
Spacious living area , Dining area , Private verandah , Complimentary wine plus choice of spirits from set menu upon embarkation , Complimentary soft drinks, beer and bottled water in room , Personal butler service , Flat-screen television, DVD & CD players , Data port for laptop computer hook-up , Separate bathroom area , Vanity in bedroom , Queen-size bed or twin beds, and third berth , Picture window in bedroom , Full Jacuzzi bathtub , Separate shower , Bidet , Walk-in closet , Refrigerator , Security safe

PH Penthouse with Verandah
Cabin Size
403 sq ft (38 sq m)
Decks
10, 11
Description
Sizeable living area , Private verandah , Complimentary wine plus choice of spirits from set menu upon embarkation , Complimentary soft drinks, beer and bottled water in room , Personal butler service , Queen-size bed or twin beds, and third berth , Vanity in dressing area , Flat-screen television & DVD player , Data port for laptop computer hook-up , Full Jacuzzi bathtub , Separate shower , Walk-in closet , Refrigerator , Security safe
P1 Deluxe Stateroom with Verandah
Cabin Size
269 sq ft (25 sq m)
Balcony Size
43 sq ft (4 sq m)
Decks
10
Description
Private verandah , Seating area , Queen-size bed or twin beds , Complimentary soft drinks and bottled water in room , Remote color television & DVD player , Data port for laptop computer hook-up , Full bathtub/shower combination , Refrigerator , Security safe
P2 Deluxe Stateroom with Verandah
Cabin Size
269 sq ft (25 sq m)
Balcony Size
43 sq ft (4 sq m)
Decks
Description
Private verandah , Seating area , Queen-size bed or twin beds , Complimentary soft drinks and bottled water in room , Remote color television & DVD player , Data port for laptop computer hook-up , Full bathtub/shower combination , Refrigerator , Security safe

A1 Deluxe Stateroom with Verandah
Cabin Size
269 sq ft (25 sq m)
Balcony Size
43 sq ft (4 sq m)
Decks
9
Description
Private verandah , Seating area , Queen-size bed or twin beds , Complimentary soft drinks and bottled water in room , Remote color television & DVD player , Data port for laptop computer hook-up , Full bathtub/shower combination , Refrigerator , Security safe
A2 Deluxe Stateroom with Verandah
Cabin Size
269 sq ft (25 sq m)
Balcony Size
43 sq ft (4 sq m)
Decks
Description
Private verandah , Seating area , Queen-size bed or twin beds , Complimentary soft drinks and bottled water in room , Remote color television & DVD player , Data port for laptop computer hook-up , Full bathtub/shower combination , Refrigerator , Security safe

B1 Deluxe Stateroom with Verandah
Cabin Size
269 sq ft (25 sq m)
Balcony Size
43 sq ft (4 sq m)
Decks
8
Description
Private verandah , Seating area , Queen-size bed or twin beds , Complimentary soft drinks and bottled water in room , Remote color television & DVD player , Data port for laptop computer hook-up , Full bathtub/shower combination , Refrigerator , Security safe
B2 Deluxe Stateroom with Verandah
Cabin Size
269 sq ft (25 sq m)
Balcony Size
43 sq ft (4 sq m)
Decks
Description
Private verandah , Seating area , Queen-size bed or twin beds , Complimentary soft drinks and bottled water in room , Remote color television & DVD player , Data port for laptop computer hook-up , Full bathtub/shower combination , Refrigerator , Security safe
B3 Deluxe Stateroom with Verandah
Cabin Size
269 sq ft (25 sq m)
Balcony Size
43 sq ft (4 sq m)
Decks
Description
Private verandah , Seating area , Queen-size bed or twin beds , Complimentary soft drinks and bottled water in room , Remote color television & DVD player , Data port for laptop computer hook-up , Full bathtub/shower combination , Refrigerator , Security safe

C1 Deluxe Stateroom with Large Picture Window
Cabin Size
226 sq ft (21 sq m)
Decks
7
Description
Large picture window , Seating area , Queen-size bed or twin beds , Complimentary soft drinks and bottled water in room , Remote color television & DVD player , Data port for laptop computer hook-up , Full bathtub/shower combination , Refrigerator , Security safe
C2 Deluxe Stateroom with Large Picture Window
Cabin Size
226 sq ft (21 sq m)
Decks
Description
Large picture window , Seating area , Queen-size bed or twin beds , Complimentary soft drinks and bottled water in room , Remote color television & DVD player , Data port for laptop computer hook-up , Full bathtub/shower combination , Refrigerator , Security safe
C3 Deluxe Stateroom with Large Picture Window
Cabin Size
226 sq ft (21 sq m)
Decks
Description
Large picture window , Seating area , Queen-size bed or twin beds , Complimentary soft drinks and bottled water in room , Remote color television & DVD player , Data port for laptop computer hook-up , Full bathtub/shower combination , Refrigerator , Security safe