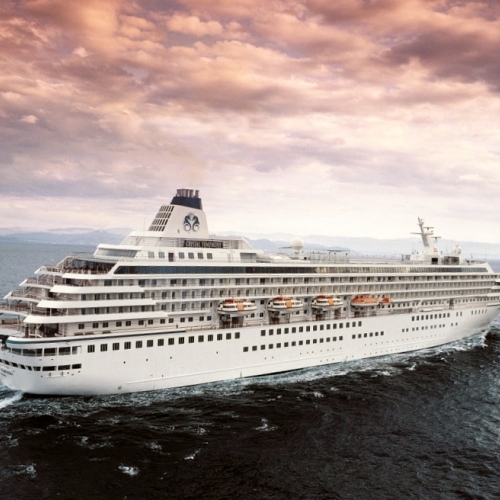 Crystal Cruises - Crystal Sky Savings
CRYSTAL SKY SAVINGS TO EUROPE!
Let your travel dreams to Europe soar to new heights with brand new Crystal Sky Savings offering fantastic value on almost every European cruise in 2017! Book passage aboard Crystal Symphony's Northern Europe or Mediterranean voyages, or Crystal Mozart's Danube River cruises and take advantage of an incredible, limited-time offer to fly round-trip Business Class for just $999 per person. Or, if you prefer, Economy Class is available for a low $249 round-trip per person!
CRYSTAL SYMPHONY - EUROPE 2017
As a standard bearer for Crystal Cruises' reputation as the World's Most Awarded Luxury Cruise Line, Crystal Symphony explores the Baltic Sea, North Cape, British Isles, and the Mediterranean—from the Canary Islands to the Italian Coast—on a rich selection of voyages designed for immersive enrichment. In Northern Europe, enjoy as many as five overnight stays in legendary cities on a single itinerary (see voyage 7212, Baltic Legends), in places like Reykjavik, Dublin, Brussels, Copenhagen, Warnemünde (for Berlin), Oslo, Antwerp, Amsterdam and London. Itineraries are curated to perfection, with two days in Stockholm timed for a Midsummer Holiday, a double overnight in Edinburgh for the Military Tattoo Festival, three days in St. Petersburg to explore imperial treasures, and an inclusive 2-night overland journey to Paris from Honfleur is available on two August departures.
Mediterranean voyages are enhanced with overnights in Bordeaux, Bilbao, Lisbon, Barcelona and Monte Carlo. From golf cruises in the Baltic or along the Mediterranean Coast, to a Canary Island culinary cruise or a Trans-Atlantic spotlighting the classical arts, Crystal's Experiences of Discovery® theme cruises add an enriching dimension to the all-inclusive Crystal Experience.
CRYSTAL MOZART - DANUBE RIVER 2017
Travel aboard Europe's "Queen of the Rivers" as Crystal Mozart journeys round-trip from Vienna—westward into the heart of the picturesque Wachau Valley, or eastbound to explore Hungary, Croatia, Serbia and Slovakia—and experience a standard of all-inclusive luxury unrivalled in river cruising. Every Crystal Mozart voyage is distinguished by an unmatched roster of Crystal Complimentary Adventures in each port of call, including a Crystal Signature Evening Event at Vienna's Belvedere Palace, and an exclusive invitation to dine at your choice of Michelin-starred restaurants in Vienna and Budapest.
Enjoy the luxuries of The Crystal Experience on your next vacation which include:
• Round-trip Business Class Airfare: $999 per person (in categories PH-A3 on Crystal Symphony; categories CS-PH on Crystal Mozart ) • Round-trip Economy Class Airfare: $249 per person (in categories PH-A3 & C1-C2 on Crystal Symphony; categories CS-W1 on Crystal Mozart) • Complimentary select fine wines, champagne and premium spirits. • Complimentary gratuities for all dining, bar, housekeeping and Penthouse / Suite butler staff • Aboard Crystal Symphony: Complimentary evening of specialty restaurant dining at least once in Silk Road or the Sushi Bar celebrating the cuisine of Nobu Matsuhisa, and at least once in Prego. • Additional reservations or visits available for a modest fee*. • Complimentary enrichment via the innovative Creative Learning Institute® and the Computer University@Sea® with classes in diverse topics such as world affairs, art, wine appreciation, digital photography and iPad filmmaking • Complimentary Wi-fi and Internet access.** • Complimentary fitness programs with classes in yoga, mat Pilates, Spinning® • Aboard Crystal Mozart: Choice of specially curated Crystal Complimentary Adventures® plus optional/for purchase Crystal Adventures® shore excursions in every port Complimentary culinary experience at highly renowned local establishments including Michelin-starred restaurants in select ports • Complimentary airport transfers to/from river yacht to airport • Complimentary Wi-fi and Internet access.**
2
Results Found
2017 Crystal Cruises
Sail
Date
Nights
Cruise
Ship
Departing
From
Brochure
Price
Our
Price
You
Save
Dec 13
10
Crystal Mozart
Vienna
$7,070
$3,535
50%
Dec 23
13
Crystal Mozart
Vienna
$15,100
$4,495
71%
Terms and Conditions
Cruise-Only Fares apply to new bookings only as of 9/12/2016. Business Class Airfare offer of $999 per person applies to new booking made in categories PH-A3 on Crystal Symphony and categories CS - PH on Crystal Mozart; Economy Class Airfare offer on categories PH-A3 on Crystal Symphony and categories CS-W1 on Crystal Mozart. All Book Now Cruise-Only Fares are in U.S. dollars, per person, based on double occupancy, capacity controlled, subject to change at any time without notice and do not include additional taxes, fees and port charges. Fares for solo guests are available upon request. Crystal Sky Savings applies to new bookings only as of September 12, 2016, in select categories from the following gateways: ATL, WAS, NYC, BOS, DEN, DFW, DTW, IAH, LAX, MIA, MCO, ORD, PHL, SEA, SFO, YUL, YYZ and YVR. Offer applies to intercontinental flights only. Crystal Sky Savings offer is confirmed upon full payment of promotional air rate and ticketed within 48 hours, and is subject to availability while supplies last. Air requests may be accepted at any time, but will not be booked until within 330 days of applicable cruise's disembarkation date/return flight. All Crystal Sky Savings' airfare-related government fees and taxes, as well as motor coach transfers between the airport and pier on embarkation and disembarkation dates are included. Offer may only be booked by calling Crystal Reservations at 1-800-446-6620 and will not be confirmed until cruise deposit amount is made and promotional air amount is paid in full within 24 hours of adding air. All promotional tickets are non-refundable. Offer does not apply to charters, back-to-back bookings or Crystal Getaway Voyages. Date deviations and other restrictions apply. Ask for details. Offer may be cancelled any time with or without notice at the discretion of Crystal Cruises. Offer does not apply to charters, back-to-back bookings or Crystal Getaway Voyages, Sales Gala CNE program and/or any promotional reduced fare bookings. 2-for-1 Fares are per person based on 50% of brochure fares. Optional Personal Select Air program is available from Crystal Cruises' designated gateway cities in the U.S. and Canada, and include all government fees and taxes. Solo Traveler Fares are available upon request. Note: Early Full Payment savings does not apply to Personal Select Air. *Crystal Cruises offers each guest the opportunity to dine at least once on a complimentary basis in Prego and at least once in Silk Road or the Sushi Bar (Sushi Bar is not available for pre-reservation via PCPC and is available on a first-come, first-served basis). Additional reservations including "walk-in" visits are subject to a $30 per person fee, subject to availability. **Free Wi-fi/Internet access: All River Suites (from category W2 - PH) , Deluxe Stateroom (from category E2 - P1) and Penthouse with Verandah (PH) guests will receive 60 minutes per person, per day; Penthouse Suite with Verandah (PS) guests will receive 90 minutes per person, per day; Two Bedroom Crystal Suite (CS) and Crystal Penthouse (CP) guests will receive unlimited free Wi-fi/internet for the duration of their cruise. Restrictions apply. All offers may not be combinable with other promotions, apply to first two full-fare guests in stateroom or suite, are capacity-controlled, subject to availability, and may be withdrawn or changed at any time without notice.