Seabourn Cruises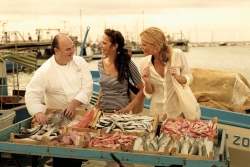 At Seabourn, we like to say "Clairvoyance is a job requirement."
Cruising on the six intimate ships of Seabourn is unlike any other form of travel. Seabourn will take you to all seven continents and to some of the most intriguing destinations in the world, in a luxurious style all our own. Seabourn service is always unobtrusive and effortless, delivered with genuine smiles and surprises offered by gracious hosts. You will find it in the steward who wades knee-deep to serve you Caviar in the Surf and in the suite stewardess who draws your lavender bath after a day spent exploring ashore…where tipping is neither required nor expected.
Our 104-suite Seabourn Pride, Seabourn Sprit and Seabourn Legend offer a surprising wealth of facilities. You'll find three dining venues, four lounges offering open bars and, of course, all-suite accommodations. Life aboard these small ships is like a private club – an intimate environment where the staff remembers your name and maybe even your favorite drink.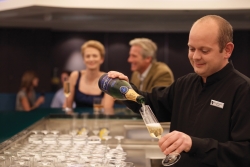 Our 225-suite Seabourn Odyssey, Seabourn Sojourn and Seabourn Quest maintain our distinctive brand of intimate elegance while allowing for the added amenities of a larger ship. Nearly every suite offers a veranda. You'll also find four restaurants, six open bars and lounges, two outdoor pools and a sumptuous two-deck spa – the largest in ultra-luxury cruising.
Across the entire fleet you will experience the staff's unwavering desire to please. The all suite accommodations are spacious and thoughtfully designed for maximum comfort and relaxation. All suites offer a walk in closet, flat screen TVs, DVD players and Bose Wave CD systems. Fine Egyptian linens, fluffy duvets, a choice of pillows and fine soaps and bath products ensure that your stay is all that you hoped for and more. Your personal Suite Stewardess will unobtrusively replenish your ice and complementary in-suite bar with your favorite wines and spirits. She will greet you with the daily paper when you awake in the morning and happily draw you a "Pure Pampering" bath at the end of a long day.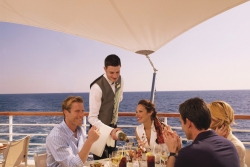 Dining on a Seabourn cruise is one of the delights of the Seabourn fleet. Award winning cuisine is served in a choice of dining venues to suit your mood for the day. Nearly all are open seating to allow you to dine when, where and with whom you wish. Enjoy a leisurely dinner with your new found friends, whether you end up in the sophisticated ambiance of The Restaurant, or explore the culinary delights of the alternative Restaurant 2, Veranda Café or the ever popular Sky Grill. Open bars throughout the ships and fine wines poured at lunch and dinner continue to enhance an already carefree existence.
Our award-winning fleet has consistently been named "Best Small-Ship Cruise Line" by the readers of both Conde Nast and Travel + Leisure. Savvy travelers recognize the multitude of advantages that come with small-ship travel – the ability to explore in-depth, while enjoying a friendly, social ambiance and a style of hospitality that is warm and truly welcoming. This is why they have chosen Seabourn as the World's Best Small-Ship Cruise Line again and again. Don't you deserve a Seabourn cruise?
Seabourn Cruises Deals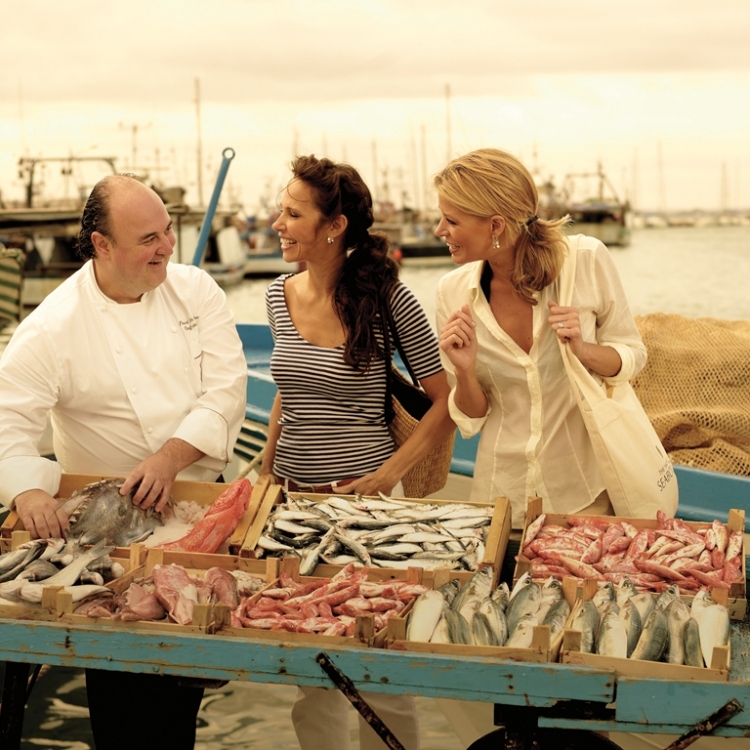 Deal Details
Seabourn Cruises - 30th Anniversary Event
Set sail to celebrate our 30th Anniversary with us! Book select voyages by November 14, 2017 to take advantage of our 30th Anniversary Event. Special Offers may include:
Complimentary Three Veranda Suite Category Upgrade*
Complimentary Veranda for Ocean View Category Upgrade*
Complimentary 300-Minute Internet Package per Person*
$300USD per person Air Credit*
$300USD per Suite Shipboard Credit*
50% Reduced Deposit*
Up to 30% Savings on Select Combination Cruises*

Book Penthouse and Premium Suites and receive:
Complimentary Unlimited Internet Package per Suite*
$1,000USD per Suite Shipboard Credit for Penthouse and Premium Suites*
* On select voyages. See Terms and Conditions for details.
Seabourn Cruises Ships
Seabourn Cruises Departure Ports