This Promotion Has Expired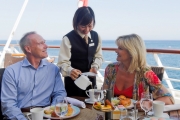 Azamara Club Cruises Half Off Companion Fare
THE OFFER FOR THOSE WHO LOVE TRAVELING TOGETHER
World travel is even better when you bring your club-like boutique hotel with you to hundreds of amazingly diverse destinations. On an Azamara voyage, you might watch the sun rise over the Sydney Opera House from your veranda while pulling into port for an overnight stay in Australia's stunning harbor city. Or you might go to the Mediterranean, where you'll enjoy local antipasto and wine at that restaurant in Italy you've been dreaming of, followed by an evening stroll along the waterfront. Real, immersive travel is what we're all about.
And with our latest offer, we're giving you one more reason to travel with us.
14
Results Found
2017 Azamara Club Cruises
Sail
Date
Nights
Cruise
Ship
Departing
From
Brochure
Price
Our
Price
You
Save
Aug 23
12
Azamara Journey
Stockholm
$11,623
$4,649
60%
Aug 29
8
Azamara Quest
Venice
$12,498
$4,999
60%
Sep 04
12
Azamara Journey
Southampton
$10,248
$4,099
60%
Sep 06
10
Azamara Quest
Venice
$8,798
$3,519
60%
Sep 16
9
Azamara Journey
Lisbon
$4,998
$1,999
60%
Sep 25
7
Azamara Journey
Barcelona
$22,273
$8,909
60%
Oct 02
8
Azamara Journey
Civitavecchia (Rome)
$7,623
$3,049
60%
Oct 10
7
Azamara Journey
Athens / Piraeus
$11,748
$4,699
60%
Oct 17
11
Azamara Journey
Athens / Piraeus
$25,973
$10,389
60%
Oct 28
17
Azamara Journey
Athens / Piraeus
$10,498
$4,199
60%
Nov 14
10
Azamara Journey
Dubai
$7,498
$2,999
60%
Nov 24
15
Azamara Journey
Dubai
$3,999
$3,499
13%
Dec 09
14
Azamara Journey
Singapore
$4,748
$1,899
60%
Dec 23
15
Azamara Journey
Hong Kong
$7,498
$2,999
60%
Terms and Conditions
Our Pricing and Savings Policy: All rates are per person, based on double occupancy, cruise only, in USD, and subject to availability. Rates may vary by ship, departure date, and stateroom category. All rates, savings offers and itineraries are subject to change without notice. Savings offers may be withdrawn at any time. Government taxes & fees are additional. *2nd Guest Up To 50% Off (BOGOHO) promotion provides 50% off cruise fare of second guest booked in the same stateroom as a first guest who books at full fare. All other charges, including, but not limited to, taxes, fees, and port expenses, are additional and apply to all guests. Offer valid for sailings between October 1, 2015 and December 31, 2017, except: Azamara Journey 11-Oct-2015 and 19-Jul-2017 and Azamara Quest as follows: 18-Nov-2015, 2-Dec-2015, 22-Dec-2015, 5-Jan-2016, 15-Jan-2016, 31-Jan-2016, 25-May-2016, 11-Jul-2016, 11-Aug-2016, 9-Sep-2016, 24-May-2017. Offer is applicable to all stateroom categories. Bookings must be created between April 1 and June 30, 2015 ("Offer Period"). Please ensure promotion BOGOHO is listed in the reservation at the time of booking. Offer is available to individual bookings and non-contracted group bookings named and fully deposited during the Offer Period. Offer is not applicable to incentive or contracted groups. Limit one offer per stateroom. Offer is combinable with Onboard Booking savings, Back to Back savings, and Le Club Voyage Quarterly Savings. Unless stated otherwise, offer is not combinable with any other offer or promotion, including, but not limited to, Interline, Travel Agent, and Net Rates. A limited number of single bookings are available under this Offer. Offer is not applicable to 3rd and 4th guests in a stateroom. After the Offer Period, the Offer will be removed from the booking if the guest cancels and reinstates the booking, applies a fare change, changes the ship or sail date of the booking, or single occupancy increases to double occupancy; certain other changes to the booking may also result in removal of the Offer. Offer is subject to availability and change without notice and may be withdrawn at any time.