7-Night Harmony of the Seas Roundtrip Ft. Lauderdale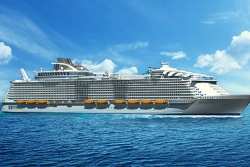 Speak to a Royal Caribbean Expert now
1-888-313-8883Toll-free
1-727-906-0444International
Cruise Line:
Voyage #:
HM07W274
Cruise Ship:
Destination:
Sailing:
December 30th, 2018 - January 6th, 2019
Prices From:
$2,462 You Save 2%
Special
Bonus Offers:
Cruise Itinerary
Get Best Price
Dec 30, 20181
Ft. Lauderdale, Florida, USA
4:30 pm
Dec 312
Day at Sea
Jan 01, 20193
Labadee, Haiti
08:00 am
5:00 pm
Jan 024
Falmouth, Jamaica
10:30 am
7:00 pm
Jan 035
Day at Sea
Jan 046
Cozumel, Mexico
08:00 am
7:00 pm
Jan 057
Day at Sea
Jan 068
Ft. Lauderdale, Florida, USA
06:15 am
Harmony of the Seas Overview
Introducing the Harmony of the Seas - the newest addition to Royal Caribbean's award-winning Oasis Class fleet. The world's biggest ship with the world's best features just got even better. There's the Ultimate Abyss, with the first-ever 10-story shipboard plunge, as well as the exhilarating multilevel Perfect Storm slides. As the kids explore Splashaway Bay, take a tree-lined stroll through Central Park, or find your own haven in any of the other seven iconic onboard neighborhoods. Sip a post-dinner cocktail crafted by a robot in our unique Bionic Bar, and share every moment with not just your family onboard, but friends back home with VOOM - the fastest Internet at sea. Discover the biggest, boldest family vacation ever on a ship unlike anything else on the ocean.
Harmony of the Seas Deck Plans
Select a Deck

Harmony of the Seas Accommodations
RL Royal Loft Suite
Cabin Size
0 sq ft (0 sq m)
Decks
Description
PS Presidential Family Suite with Balcony
Cabin Size
0 sq ft (0 sq m)
Decks
Description
SL Sky Loft with Balcony
Cabin Size
0 sq ft (0 sq m)
Decks
Description
A1 Spacious Aquatheater Suite 2 Bedroom
Cabin Size
0 sq ft (0 sq m)
Decks
Description
A2 Aquatheater Suite 2 Bedroom
Cabin Size
0 sq ft (0 sq m)
Decks
Description
A3 Spacious Aquatheater Suite 1 Bedroom
Cabin Size
0 sq ft (0 sq m)
Decks
Description
A4 Aquatheater Suite 1 Bedroom
Cabin Size
0 sq ft (0 sq m)
Decks
Description
L1 Crown Loft Suite with Balcony
Cabin Size
0 sq ft (0 sq m)
Decks
Description
L2 Crown Loft Suite with Balcony
Cabin Size
0 sq ft (0 sq m)
Decks
Description
OS Owner's Suite with Balcony
Cabin Size
0 sq ft (0 sq m)
Decks
Description
FS Royal Family Suite with Balcony
Cabin Size
0 sq ft (0 sq m)
Decks
Description
GS Grand Suite with Balcony
Cabin Size
0 sq ft (0 sq m)
Decks
Description
JS Junior Suite with Balcony
Cabin Size
0 sq ft (0 sq m)
Decks
Description
W Suite Guarantee
Cabin Size
0 sq ft (0 sq m)
Decks
Description
FB Family Oceanview Stateroom with Balcony
Cabin Size
0 sq ft (0 sq m)
Decks
Description
D1 Superior Ocean View Stateroom with Balcony
Cabin Size
0 sq ft (0 sq m)
Decks
Description
D2 Superior Ocean View Stateroom with Balcony
Cabin Size
0 sq ft (0 sq m)
Decks
Description
D3 Superior Ocean View Stateroom with Balcony
Cabin Size
0 sq ft (0 sq m)
Decks
Description
D4 Superior Ocean View Stateroom with Balcony
Cabin Size
0 sq ft (0 sq m)
Decks
Description
D5 Superior Ocean View Stateroom with Balcony
Cabin Size
0 sq ft (0 sq m)
Decks
Description
D6 Superior Ocean View Stateroom with Balcony
Cabin Size
0 sq ft (0 sq m)
Decks
Description
D7 Superior Ocean View Stateroom with Balcony
Cabin Size
0 sq ft (0 sq m)
Decks
Description
D8 Superior Ocean View Stateroom with Balcony
Cabin Size
0 sq ft (0 sq m)
Decks
Description
X Ocean View Balcony Guarantee
Cabin Size
0 sq ft (0 sq m)
Decks
Description
B1 Boardwalk View with Balcony
Cabin Size
0 sq ft (0 sq m)
Decks
Description
B2 Boardwalk View with Balcony
Cabin Size
0 sq ft (0 sq m)
Decks
Description
C1 Central Park View with Balcony
Cabin Size
0 sq ft (0 sq m)
Decks
Description
C2 Central Park View with Balcony
Cabin Size
0 sq ft (0 sq m)
Decks
Description
XN Neighborhood Balcony Guarantee
Cabin Size
0 sq ft (0 sq m)
Decks
Description
FO Family Ocean View Stateroom
Cabin Size
0 sq ft (0 sq m)
Decks
Description
BV Boardwalk View Stateroom
Cabin Size
0 sq ft (0 sq m)
Decks
Description
CV Central Park View Stateroom
Cabin Size
0 sq ft (0 sq m)
Decks
Description
F Ocean View Stateroom
Cabin Size
0 sq ft (0 sq m)
Decks
Description
G Ocean View Stateroom
Cabin Size
0 sq ft (0 sq m)
Decks
Description
H Ocean View Stateroom
Cabin Size
0 sq ft (0 sq m)
Decks
Description
I Ocean View Stateroom
Cabin Size
0 sq ft (0 sq m)
Decks
Description
SO Studio Ocean View Stateroom
Cabin Size
0 sq ft (0 sq m)
Decks
Description
Y Ocean View Guarantee
Cabin Size
0 sq ft (0 sq m)
Decks
Description
FI Family Interior Stateroom
Cabin Size
0 sq ft (0 sq m)
Decks
Description
PR Promenade Stateroom
Cabin Size
0 sq ft (0 sq m)
Decks
Description
VB Interior Stateroom with Virtual Balcony
Cabin Size
0 sq ft (0 sq m)
Decks
Description
K Large Interior Stateroom
Cabin Size
0 sq ft (0 sq m)
Decks
Description
L Large Interior Stateroom
Cabin Size
0 sq ft (0 sq m)
Decks
Description
M Large Interior Stateroom
Cabin Size
0 sq ft (0 sq m)
Decks
Description
N Large Interior Stateroom
Cabin Size
0 sq ft (0 sq m)
Decks
Description
Q Interior Stateroom
Cabin Size
0 sq ft (0 sq m)
Decks
Description
SI Studio Interior Stateroom
Cabin Size
0 sq ft (0 sq m)
Decks
Description
Z Interior Guarantee
Cabin Size
0 sq ft (0 sq m)
Decks
Description