17-Night Silver Explorer Seward to Otranto (Lecce)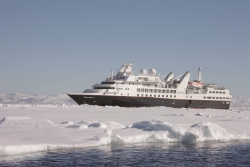 Speak to a Silversea Cruise Expert now
1-888-313-8883Toll-free
1-727-906-0444International
Cruise Line:
Voyage #:
7813
Cruise Ship:
Destination:
Sailing:
June 14th - July 1st, 2018
Prices From:
$22,300
Special
Bonus Offers:
Cruise Itinerary
Get Best Price
Day/Date
Port
Arrive
Depart
Jun 14, 20181
Seward, Alaska, USA
8:00 PM
Jun 152
Holgate Glacier, Alaska, USA
6:00 AM
11:00 AM
Jun 153
Puerto Chiapas
1:30 PM
5:00 PM
Jun 164
8:30 AM
6:30 PM
Jun 175
Semidi, Alaska, USA
7:30 AM
11:00 AM
Jun 176
Chignik, Alaska, USA
5:00 PM
8:00 PM
Jun 187
Unga Spit, Alaska, USA
7:30 AM
11:30 AM
Jun 198
Dutch Harbor, Alaska, USA
8:00 AM
12:30 PM
Jun 209
Day at Sea
Jun 2110
Kiska Harbor, Alaska, USA
2:00 PM
6:00 PM
Jun 2211
Attu Island, Alaska, USA
12:00 PM
4:00 PM
Jun 2312
Date Line Lose A Day
Jun 2413
Day at Sea
Jun 2514
Petropavlovsk, Russia
12:30 PM
11:59 PM
Jun 2615
Ruskaya Bay
5:30 AM
10:00 AM
Jun 2616
Utashud Island
5:30 PM
8:30 PM
Jun 2717
Atlasova Island
6:00 AM
11:30 AM
Jun 2818
Yankicha Island
8:30 AM
1:30 PM
Jun 2819
4:00 PM
8:00 PM
Jun 2920
Chirpoy Island
4:00 AM
10:30 AM
Jun 3021
Tyuleniy Island
11:00 AM
2:00 PM
Jul 0122
Korsakov
9:00 AM
3:30 PM
Jul 0223
Otranto (Lecce), Italy
10:30 AM
Silver Explorer Overview
Are you ready to go exploring? Adventure seekers with discerning taste have a rare opportunity to access the most remote destinations in the world on the most luxurious expedition ship afloat. Silversea Explorer will take you on an unforgettable journey to fascinating locations throughout the world. Silversea's purpose-built Silver Explorer expedition ship was designed to bravely and safely navigate the most remote regions including the Polar Circle.
With only 132 guests on board the Explorer is perfectly suited to carry you to places you could only imagine in a luxurious, intimate, and personalized fashion. Your Expedition Leader works closely with the Captain to ensure the opportunities for adventure and exploration are the best possible, and the fleet of rugged inflatable Zodiac boats allow for up close and personal explorations in shallow waters that cannot be reached by the larger ships. Your Expedition Team is specially selected for their expertise and enthusiasm for this type of adventuring and the Lecturers include experienced Marine Biologists, Anthropologists, Historians and Ornithologists.
Whether you choose to explore Antarctica, the last unexploited authentic regions of West Africa, go beyond the Arctic circle, or warm up in the Darien Jungle of South America, the Silver Explorer will carry you there in unsurpassed luxury.
Although the Silver Explorer is a rugged expedition ship, inside she is all Silversea. The accommodations are all not only beautiful but well thought out and welcoming. The suite size varies with location and many suites boast a French balcony or large private veranda. All suites include flat screen TVs, IPod docking stations, cozy spa robes, in-suite bar stocked with your favorites and much more. Of course your Butler will be available to make sure that all is to your liking.
Complementary wines and spirits, open seating Relais & Chateau dining, complementary parkas (polar voyages), and complementary adventures ashore round out your all inclusive journey. All you have to do is relax and enjoy your adventure!
Silver Explorer Deck Plans
Select a Deck



Silver Explorer Deck 5
SL Silver Suite
Cabin Details
Cabin Size
460 sq ft (43 sq m)
Balcony Size
30 sq ft (3 sq m)
VR Veranda Suite
Cabin Details
Cabin Size
230 sq ft (22 sq m)
Balcony Size
15 sq ft (2 sq m)

Silver Explorer Deck 6

Silver Explorer Deck 7
OS Owner's Suite
Cabin Details
Cabin Size
626 sq ft (59 sq m)
Balcony Size
100 sq ft (10 sq m)
GR Grand Suite
Cabin Details
Cabin Size
675 sq ft (63 sq m)
Balcony Size
87 sq ft (9 sq m)
ME Medallion Suite
Cabin Details
Cabin Size
351 sq ft (33 sq m)
Balcony Size
86 sq ft (8 sq m)

Silver Explorer Accommodations
OS Owner's Suite
Cabin Size
626 sq ft (59 sq m)
Balcony Size
100 sq ft (10 sq m)
Decks
7
Description
Available as a one-bedroom configuration or as two-bedrooms by adjoining with adjacent Medallion Suite. All suites and staterooms feature: Pommery Champagne upon arrival, fresh fruit and flowers, beverage cabinet stocked to your preference, European bath amenities, fine bed linens, premium mattresses your choice of pillow, plush robes and slippers, personalised stationery, expedition binoculars, hair dryer, personal safe, and twice daily suite service plus turndown nightly. Large teak veranda with patio furniture and floor-to-ceiling glass doors Living room with sitting area Separate dining area Twin beds or queen-sized bed Marbled bathroom with full-sized bath and separate shower Walk-in wardrobe with personal safe Vanity table(s) with hair dryer Writing desk(s) Flat screen television(s) with interactive video, on-demand movies and music, and satellite news programming Direct-dial telephone(s) WiFi Internet access (fee applies) Complimentary butler service Complimentary laundry service*
GR Grand Suite
Cabin Size
675 sq ft (63 sq m)
Balcony Size
87 sq ft (9 sq m)
Decks
7
Description
All suites and staterooms feature: Pommery Champagne upon arrival, fresh fruit and flowers, beverage cabinet stocked to your preference, European bath amenities, fine bed linens, premium mattresses your choice of pillow, plush robes and slippers, personalised stationery, expedition binoculars, hair dryer, personal safe, and twice daily suite service plus turndown nightly. Teak veranda with patio furniture and floor-to-ceiling glass doors Living room with sitting area Separate dining area Twin beds or queen-sized bed Marbled bathroom one with full-sized bath and seperate shower Walk-in wardrobe with personal safe Vanity table(s) with hair dryer Writing desk(s) Flat screen television(s) with interactive video, on-demand movies and music, and satellite news programming Direct-dial telephone(s) WiFi Internet access (fee applies) Complimentary butler service Complimentary laundry service*
ME Medallion Suite
Cabin Size
351 sq ft (33 sq m)
Balcony Size
86 sq ft (8 sq m)
Decks
7
Description
All suites and staterooms feature: Pommery Champagne upon arrival, fresh fruit and flowers, beverage cabinet stocked to your preference, European bath amenities, fine bed linens, premium mattresses your choice of pillow, plush robes and slippers, personalised stationery, expedition binoculars, hair dryer, personal safe, and twice daily suite service plus turndown nightly. Teak veranda with patio furniture and floor-to-ceiling glass doors Sitting area Twin beds or queen-sized bed Marbled bathroom with full-sized bath and separate shower Writing desk Flat screen television with interactive video, on-demand movies and music, and satellite news programming Direct-dial telephone(s) WiFi Internet access (fee applies)
SL Silver Suite
Cabin Size
460 sq ft (43 sq m)
Balcony Size
30 sq ft (3 sq m)
Decks
5
Description
Silver Suite available as a one-bedroom configuration or as two bedrooms by adjoining with adjacent Veranda Suite. All suites and staterooms feature: Pommery Champagne upon arrival, fresh fruit and flowers, beverage cabinet stocked to your preference, European bath amenities, fine bed linens, premium mattresses your choice of pillow, plush robes and slippers, personalised stationery, expedition binoculars, hair dryer, personal safe, and twice daily suite service plus turndown nightly. Two French balconies with floor-to-ceiling glass doors Living room (with convertible sofa to accommodate an additional guest) Sitting area Twin beds or queen-sized bed Marbled bathroom with full-sized bath and separate shower Walk-in wardrobe with personal safe Vanity table with hair dryer Writing desk(s) Flat screen television(s) with interactive video, on-demand movies and music, and satellite news programming Direct-dial telephone(s) WiFi Internet access (fee applies)

EX Expedition Suite
Cabin Size
460 sq ft (43 sq m)
Decks
3, 4
Description
All suites and staterooms feature: Pommery Champagne upon arrival, fresh fruit and flowers, beverage cabinet stocked to your preference, European bath amenities, fine bed linens, premium mattresses your choice of pillow, plush robes and slippers, personalised stationery, expedition binoculars, hair dryer, personal safe, and twice daily suite service plus turndown nightly. Two view windows Living room (with convertible sofa to accommodate an additional guest) Sitting area Twin beds or queen-sized bed Marbled bathroom with full-sized bath and separate shower Walk-in wardrobe with personal safe Writing desk(s) Flat screen television(s) with interactive video, on-demand movies and music, and satellite news programming Direct-dial telephone(s) WiFi Internet access (fee applies)
VR Veranda Suite
Cabin Size
230 sq ft (22 sq m)
Balcony Size
15 sq ft (2 sq m)
Decks
5
Description
All suites and staterooms feature: Pommery Champagne upon arrival, fresh fruit and flowers, beverage cabinet stocked to your preference, European bath amenities, fine bed linens, premium mattresses your choice of pillow, plush robes and slippers, personalised stationery, expedition binoculars, hair dryer, personal safe, and twice daily suite service plus turndown nightly. French balcony with floor-to-ceiling glass doors Sitting area Twin beds or queen-sized bed Marbled bathroom with tub/shower combination Writing desk Flat screen television with interactive video, on-demand movies and music, and satellite news programming Direct-dial telephone WiFi Internet access (fee applies)

VI Vista Suite
Cabin Size
230 sq ft (22 sq m)
Decks
4
Description
All suites and staterooms feature: Pommery Champagne upon arrival, fresh fruit and flowers, beverage cabinet stocked to your preference, European bath amenities, fine bed linens, premium mattresses your choice of pillow, plush robes and slippers, personalised stationery, expedition binoculars, hair dryer, personal safe, and twice daily suite service plus turndown nightly. Large picture window providing panoramic ocean views (Midship) View window (Forward deck) Sitting area Twin beds or queen-sized bed Marbled bathroom with tub/shower combination Writing desk Flat screen television with interactive video, on-demand movies and music, and satellite news programming Direct-dial telephone WiFi Internet access (fee applies)

VS View Suite
Cabin Size
230 sq ft (22 sq m)
Decks
3
Description
All suites and staterooms feature: Pommery Champagne upon arrival, fresh fruit and flowers, beverage cabinet stocked to your preference, European bath amenities, fine bed linens, premium mattresses your choice of pillow, plush robes and slippers, personalised stationery, expedition binoculars, hair dryer, personal safe, and twice daily suite service plus turndown nightly. View window Sitting area Twin beds or queen-sized bed Marbled bathroom with tub/shower combination Writing desk Flat screen television with interactive video, on-demand movies and music, and satellite news programming Direct-dial telephone WiFi Internet access (fee applies)

EC Explorer Class
Cabin Size
175 sq ft (17 sq m)
Decks
4
Description
All suites and staterooms feature: Pommery Champagne upon arrival, fresh fruit and flowers, beverage cabinet stocked to your preference, European bath amenities, fine bed linens, premium mattresses your choice of pillow, plush robes and slippers, personalised stationery, expedition binoculars, hair dryer, personal safe, and twice daily suite service plus turndown nightly. View window Sitting area Twin beds or queen-sized bed Marbled bathroom with tub/shower combination Writing desk Flat screen television with interactive video, on-demand movies and music, and satellite news programming Direct-dial telephone WiFi Internet access (fee applies)
AC Adventurer Class
Cabin Size
184 sq ft (18 sq m)
Decks
3
Description
All suites and staterooms feature: Pommery Champagne upon arrival, fresh fruit and flowers, beverage cabinet stocked to your preference, European bath amenities, fine bed linens, premium mattresses your choice of pillow, plush robes and slippers, personalised stationery, expedition binoculars, hair dryer, personal safe, and twice daily suite service plus turndown nightly. Two portholes Sitting area Twin beds or queen-sized bed Marbled bathroom with tub/shower combination Writing desk Flat screen television with interactive video, on-demand movies and music, and satellite news programming Direct-dial telephone WiFi Internet access (fee applies)