14-Night Silver Whisper Montréal to Ft. Lauderdale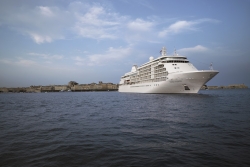 Speak to a Silversea Cruise Expert now
1-888-313-8883Toll-free
1-727-906-0444International
Cruise Line:
Voyage #:
WH201027014
Cruise Ship:
Destination:
Sailing:
October 27th - November 10th, 2020
Prices From:
$7,400
Special
Bonus Offers:
Cruise Itinerary
Get Best Price
Day/Date
Port
Arrive
Depart
Oct 27, 20201
Montréal, P.Q., Canada
7:00 PM
Oct 282
Québec City, P.Q., Canada
8:00 AM
6:00 PM
Oct 293
7:00 AM
7:00 AM
Oct 294
12:00 PM
7:00 PM
Oct 305
Day at Sea
Oct 316
1:00 PM
11:00 PM
Nov 017
Day at Sea
Nov 028
8:00 AM
5:00 PM
Nov 039
Bar Harbor, Maine, USA
9:00 AM
5:00 PM
Nov 0410
Boston, Massachusetts, USA
7:00 AM
2:30 PM
Nov 0411
Cape Cod Canal Transit
7:15 PM
8:45 PM
Nov 0512
9:00 AM
Nov 0613
2:30 PM
Nov 0714
9:00 AM
7:00 PM
Nov 0815
Day at Sea
Nov 0916
Day at Sea
Nov 1017
Ft. Lauderdale, Florida, USA
7:00 AM
Silver Whisper Overview
Ahhh... What can we say! The successes of the Wind and the Cloud necessitated the birth of The Silver Whisper. Taking the award winning luxury of all suite cruising to the next level was what Silversea had in mind, and they accomplished this with flare.
The Silver Whisper is just slightly larger than the Wind and the Cloud and although she carries 382 guests, the Silver Whisper maintains one of the highest space to guest ratios at sea.
The intimate ambiance of the Whisper has attracted many fans in the cruising world and is the ship of choice for many World Cruise guests.
Dining aboard the Silver Whisper is filled with options that never disappoint. The Restaurant features the convenience of open seating so that you may dine whenever and with whomever you please. The Relais & Chateaux Menu offers delectable choices created exclusively for Silversea and change daily. For those of you that prefer a more casual dining experience, La Terrazza, a Slow Food inspired restaurant offers authentic Italian dishes using fresh locally grown, sustainable products in a beautiful ocean front setting. La Champagne is a special treat not to be missed. Wine pairings with an exciting menu of fine dining specialties that change with the region create an evening of beautiful memories.
Silversea not only wants to feed your body, they are masters at feeding your mind. Whether your interest lies in a Wine Series Voyage, a Culinary Arts Voyage or a Cultural Voyage there is plenty to participate in. Watch cooking demonstrations, shop with the Chef for fresh ingredients at a local market, or enjoy an excursion with the chef to a local restaurant where an eminent chef reveals his talents. The Cultural Enrichment Guest Lecturers will have you spellbound with their stimulating discussions ad fascinating insights into the cultures of the regions you are visiting.
Accomodations are once again, all Silversea... The suites are slightly larger than the Wind and the Cloud and are spaciously luxurious and have an abundance of thoughtful amenities. Personalized stationary, your choice of Bulgari or Ferragamo toiletries, Pratesi linens and a bar stocked with your favorite wines and liquors are a wonderful welcome to your home at sea. Each suite boasts a walk in closet, Italian marble baths, spa robe and slippers, and lest we forget, your own Butler will ensure that all is to your liking. For even more pampering luxury, the Silver, Royal, Grand, and Owners Suites offer laundry service throughout the voyage along with a myriad of special surprises designed with you in mind.
Silver Whisper Deck Plans
Select a Deck


Silver Whisper Deck 5
B1 Veranda Suite
Cabin Details
Cabin Size
345 sq ft (33 sq m)
Balcony Size
60 sq ft (6 sq m)
B2 Veranda Suite
Cabin Details
Cabin Size
345 sq ft (33 sq m)
Balcony Size
60 sq ft (6 sq m)

Silver Whisper Deck 6

Silver Whisper Deck 7

Silver Whisper Deck 8

Silver Whisper Deck 9
B4 Veranda Suite
Cabin Details
Cabin Size
345 sq ft (33 sq m)
Balcony Size
60 sq ft (6 sq m)

Silver Whisper Deck 10

Silver Whisper Accommodations
O2 Owner's Suite (Two Bedroom)
Cabin Size
1,264 sq ft (118 sq m)
Balcony Size
100 sq ft (10 sq m)
Decks
7
Description
Available as a one-bedroom configuration or as two-bedrooms by adjoining with a Vista Suite. The name says it all. A stylish apartment. Prestigious and classic. For those whose standards are higher than most. Large teak veranda with patio furniture and floor-to-ceiling glass doors; two-bedroom has additional vista Living room with sitting area; two-bedroom has additional sitting area Separate dining area and bar Twin beds or queen-sized bed: two-bedroom has additional twin beds or queen-sized bed Marbled bathrooms with double vanity, separate shower and full-sized whirlpool tub, plus a powder room; two-bedroom has additional marbled bathroom with full-sized bath Walk-in wardrobe(s) with personal safe Vanity table(s) with hair dryer Writing desk(s) CD player Flat screen television(s) with DVD and satellite reception Direct-dial telephone(s) Complimentary laundry service* Complimentary daily newspaper of choice
G2 Grand Suite (Two Bedroom)
Cabin Size
1,435 sq ft (134 sq m)
Balcony Size
100 sq ft (10 sq m)
Decks
6, 7, 8
Description
Available as a one-bedroom configuration or as two-bedrooms by adjoining with a Veranda Suite. Stately. Commanding and majestic. Perfect for entertaining. Enough living space to roam. The pinnacle of good living. Large teak veranda with patio furniture and floor-to-ceiling glass doors; two-bedroom has additional veranda Living room with sitting area; two-bedroom has additional sitting area Separate dining area and bar Twin beds or queen-sized bed: two-bedroom has additional twin beds or queen-sized bed Marbled bathrooms with double vanity, separate shower and full-sized whirlpool tub, plus a powder room; two-bedroom has additional marbled bathroom with full-sized bath Walk-in wardrobe(s) with personal safe Vanity table(s) with hair dryer Writing desk(s) Flat screen television(s) with DVD and satellite reception CD player Direct-dial telephone(s) Complimentary laundry service* Complimentary daily newspaper of choice
R2 Royal Suite (Two Bedroom)
Cabin Size
1,352 sq ft (126 sq m)
Balcony Size
100 sq ft (10 sq m)
Decks
6, 7
Description
Available as a one-bedroom configuration or as two-bedrooms by adjoining with a Veranda Suite. Stately. Commanding and majestic. Perfect for entertaining. Enough living space to roam. The pinnacle of good living. Large teak veranda with patio furniture and floor-to-ceiling glass doors; two-bedroom has additional veranda Living room with sitting area; two-bedroom has additional sitting area Separate dining area and bar Twin beds or queen-sized bed: two-bedroom has additional twin beds or queen-sized bed Two marbled bathrooms, one with double vanity, separate shower and full-sized whirlpool tub, plus a powder room; two-bedroom has additional marbled bathroom with full-sized bath Walk-in wardrobe(s) with personal safe Vanity table(s) with hair dryer Writing desk(s) Flat screen television(s) with DVD and satellite reception CD player Direct-dial telephone(s)
O1 Owner's Suite (One Bedroom)
Cabin Size
919 sq ft (86 sq m)
Balcony Size
100 sq ft (10 sq m)
Decks
7
Description
Available as a one-bedroom configuration or as two-bedrooms by adjoining with a Vista Suite. The name says it all. A stylish apartment. Prestigious and classic. For those whose standards are higher than most. Large teak veranda with patio furniture and floor-to-ceiling glass doors; two-bedroom has additional vista Living room with sitting area; two-bedroom has additional sitting area Separate dining area and bar Twin beds or queen-sized bed: two-bedroom has additional twin beds or queen-sized bed Marbled bathrooms with double vanity, separate shower and full-sized whirlpool tub, plus a powder room; two-bedroom has additional marbled bathroom with full-sized bath Walk-in wardrobe(s) with personal safe Vanity table(s) with hair dryer Writing desk(s) CD player Flat screen television(s) with DVD and satellite reception Direct-dial telephone(s) Complimentary laundry service* Complimentary daily newspaper of choice
G1 Grand Suite (One Bedroom)
Cabin Size
1,090 sq ft (102 sq m)
Balcony Size
100 sq ft (10 sq m)
Decks
6, 7, 8
Description
Available as a one-bedroom configuration or as two-bedrooms by adjoining with a Veranda Suite. Stately. Commanding and majestic. Perfect for entertaining. Enough living space to roam. The pinnacle of good living. Large teak veranda with patio furniture and floor-to-ceiling glass doors; two-bedroom has additional veranda Living room with sitting area; two-bedroom has additional sitting area Separate dining area and bar Twin beds or queen-sized bed: two-bedroom has additional twin beds or queen-sized bed Marbled bathrooms with double vanity, separate shower and full-sized whirlpool tub, plus a powder room; two-bedroom has additional marbled bathroom with full-sized bath Walk-in wardrobe(s) with personal safe Vanity table(s) with hair dryer Writing desk(s) Flat screen television(s) with DVD and satellite reception CD player Direct-dial telephone(s) Complimentary laundry service* Complimentary daily newspaper of choice
R1 Royal Suite (One Bedroom)
Cabin Size
1,007 sq ft (94 sq m)
Balcony Size
100 sq ft (10 sq m)
Decks
6, 7
Description
Available as a one-bedroom configuration or as two-bedrooms by adjoining with a Veranda Suite. Stately. Commanding and majestic. Perfect for entertaining. Enough living space to roam. The pinnacle of good living. Large teak veranda with patio furniture and floor-to-ceiling glass doors; two-bedroom has additional veranda Living room with sitting area; two-bedroom has additional sitting area Separate dining area and bar Twin beds or queen-sized bed: two-bedroom has additional twin beds or queen-sized bed Two marbled bathrooms, one with double vanity, separate shower and full-sized whirlpool tub, plus a powder room; two-bedroom has additional marbled bathroom with full-sized bath Walk-in wardrobe(s) with personal safe Vanity table(s) with hair dryer Writing desk(s) Flat screen television(s) with DVD and satellite reception CD player Direct-dial telephone(s)
SL Silver Suite
Cabin Size
701 sq ft (66 sq m)
Balcony Size
100 sq ft (10 sq m)
Decks
7
Description
Silver Suites accommodate three guests. Stylish and sophisticated. Separate dining and living rooms. Larger verandas. Situated midship. Perfection in design for comfortable living. Teak veranda with patio furniture and floor-to-ceiling glass doors Living room (with convertible sofa to accommodate an additional guest) Sitting area Separate dining area Twin beds or queen-sized bed Marbled bathroom with double vanity, full-sized bath, separate shower Walk-in wardrobe with personal safe Vanity table with hair dryer Writing desk Flat screen television(s) with DVD and satellite reception CD player Direct-dial telephone(s) Complimentary laundry service*
ME Medallion Suite
Cabin Size
521 sq ft (49 sq m)
Balcony Size
81 sq ft (8 sq m)
Decks
7
Description
A mark of distinction. Sumptuous. Spacious. Rich textures and panoramic views surround you with distinguished luxury. Teak veranda with patio furniture and floor-to-ceiling glass doors Living room with sitting area and dining area Twin beds or queen-sized bed Marbled bathroom with double vanity, full-sized bath, separate shower Walk-in wardrobe with personal safe Vanity table with hair dryer Writing desk Flat screen television with DVD and satellite reception CD player Direct-dial telephone
B4 Veranda Suite
Cabin Size
345 sq ft (33 sq m)
Balcony Size
60 sq ft (6 sq m)
Decks
8, 9
Description
Some Veranda Suites accommodate three quests. A Silversea signature. Spacious and welcoming. Floor-to-ceiling glass doors open onto a furnished private teak veranda. Each spectacular sunset feels like it is yours alone. Teak veranda with patio furniture and floor-to-ceiling glass doors Sitting area Twin beds or queen-sized bed Marbled bathroom with double vanity, full-sized bath, separate shower Walk-in wardrobe with personal safe Vanity table with hair dryer Writing desk Flat screen television with DVD and satellite reception Direct-dial telephone
B3 Veranda Suite
Cabin Size
345 sq ft (33 sq m)
Balcony Size
60 sq ft (6 sq m)
Decks
6, 8
Description
Some Veranda Suites accommodate three quests. A Silversea signature. Spacious and welcoming. Floor-to-ceiling glass doors open onto a furnished private teak veranda. Each spectacular sunset feels like it is yours alone. Teak veranda with patio furniture and floor-to-ceiling glass doors Sitting area Twin beds or queen-sized bed Marbled bathroom with double vanity, full-sized bath, separate shower Walk-in wardrobe with personal safe Vanity table with hair dryer Writing desk Flat screen television with DVD and satellite reception Direct-dial telephone
B2 Veranda Suite
Cabin Size
345 sq ft (33 sq m)
Balcony Size
60 sq ft (6 sq m)
Decks
5, 6, 7
Description
Some Veranda Suites accommodate three quests. A Silversea signature. Spacious and welcoming. Floor-to-ceiling glass doors open onto a furnished private teak veranda. Each spectacular sunset feels like it is yours alone. Teak veranda with patio furniture and floor-to-ceiling glass doors Sitting area Twin beds or queen-sized bed Marbled bathroom with double vanity, full-sized bath, separate shower Walk-in wardrobe with personal safe Vanity table with hair dryer Writing desk Flat screen television with DVD and satellite reception Direct-dial telephone
B1 Veranda Suite
Cabin Size
345 sq ft (33 sq m)
Balcony Size
60 sq ft (6 sq m)
Decks
5
Description
Some Veranda Suites accommodate three quests. A Silversea signature. Spacious and welcoming. Floor-to-ceiling glass doors open onto a furnished private teak veranda. Each spectacular sunset feels like it is yours alone. Teak veranda with patio furniture and floor-to-ceiling glass doors Sitting area Twin beds or queen-sized bed Marbled bathroom with double vanity, full-sized bath, separate shower Walk-in wardrobe with personal safe Vanity table with hair dryer Writing desk Flat screen television with DVD and satellite reception Direct-dial telephone

TS Terrace Suite
Cabin Size
287 sq ft (27 sq m)
Decks
5
Description
Some Terrace Suites accommodate three guests.With a shared veranda, this accommodation provides an easy transition from peace and privacy to the energy and excitement of the onboard social scene. Shared teak veranda and floor-to-ceiling glass doors Sitting area Twin beds or queen-sized bed Marbled bathroom with double vanity, full-sized bath, separate shower Walk-in wardrobe with personal safe Vanity table with hair dryer Writing desk Flat screen television with DVD and satellite reception Direct-dial telephone
VI Vista Suite
Cabin Size
287 sq ft (27 sq m)
Decks
4
Description
A quiet sanctuary. The sitting area has plenty of room to relax. Large picture windows frame panoramic ocean views. The perfect backdrop for breakfast in bed. Large picture window providing panoramic ocean views Sitting area Twin beds or queen-sized bed Marbled bathroom with double vanity, full-sized bath, separate shower Walk-in wardrobe with personal safe Vanity table with hair dryer Writing desk Flat screen television with DVD and satellite reception Direct-dial telephone