10-Night Silver Wind Copenhagen to London (Tower Bridge)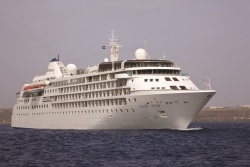 Speak to a Silversea Cruise Expert now
1-888-313-8883Toll-free
1-727-906-0444International
Cruise Line:
Voyage #:
2828
Cruise Ship:
Destination:
Sailing:
September 8th - 18th, 2018
Prices From:
$5,600
Special
Bonus Offers:
Cruise Itinerary
Get Best Price
Day/Date
Port
Arrive
Depart
Sep 08, 20181
Copenhagen, Denmark
6:00 PM
Sep 092
Kiel Canal
6:30 AM
4:30 PM
Sep 093
Hamburg, Germany
7:30 PM
Sep 104
Hamburg, Germany
6:00 PM
Sep 115
Amsterdam, Netherlands
6:00 PM
Sep 126
Amsterdam, Netherlands
4:00 PM
Sep 137
Antwerp, Belgium
9:00 AM
11:59 PM
Sep 148
Day at Sea
Sep 159
Rouen, France
8:00 AM
Sep 1610
Rouen, France
7:00 AM
Sep 1611
Honfleur, France
1:00 PM
Sep 1712
Honfleur, France
2:30 AM
Sep 1713
London (Tower Bridge), UK
9:00 PM
Sep 1814
London (Tower Bridge), UK
Silver Wind Overview
The sister ships, Silver Cloud and Silver Wind were the first ships of the fleet and cater to those who enjoy the intimacy of small ship cruising.
The Silver Wind is the second ship of the Silversea fleet and has traversed the world. She carries 296 pampered guests to all corners of the globe in an unprecedented comfort and luxury.
This all oceanview suite ship has much to offer the world traveler. Her smaller size allows the captain access to many cities and harbors that the larger ships must pass by. There is something special about being able to step off your beautiful Silver Wind right in the heart of a bustling downtown metropolis.
The accommodations are all Silversea... The Vista and Veranda Suites start at 240 sq feet of well thought out luxury and accommodate 2 twin or 1 queen size bed along with a spacious sitting area. Large walk in closet and sumptuous marble baths compete your home away from home.
Should you feel you would like a little more space, the Silver Suite at 541 sq feet offers a separate dining and living area and a larger teak veranda. Pure indulgence!
Princely accommodations in the form of the Grand, Royal or Owners Suites are much sought after. With the availability of 1 or 2 bedroom configurations, these outstanding living areas are perfect for entertaining "at home".
Butler service is available in all suites. Allow your Butler to welcome you aboard. He unpacks your luggage, chills your favorite beverage, facilitates your laundry requests, and if that's not enough, draws your scented bath, turns down your beds and still has time to coordinate your shore excursions with the Concierge!
Dining options on the Silver Wind are exceptional. The Restaurant shimmers with china, crystal and candles. The haute cuisine menu will tempt the most discriminating palate.
La Terrazza is a casual dining venue by day, and at night transitions into a beautiful waterfront Tratoria offering mouthwatering regional Italian cuisine. The only Slow Food inspired restaurant at sea, La Terrazza reflects the Slow Food tenants of using fresh, local sustainable delicacies such as organic olive oil from Umbria, buffalo mozzarella from Naples and 24 month aged Parmigiano Reggiano from Emilia-Romagna.
La Champagane is a special venue. The only Relais & Chateaux restaurant at sea indulges not only your palate, but all your senses. The inspired menu changes with your destination and the sophisticated ambiance of this beautiful room will create memories to last a lifetime.
Silver Wind Deck Plans
Select a Deck


Silver Wind Deck 5

Silver Wind Deck 6

Silver Wind Deck 7

Silver Wind Deck 8

Silver Wind Deck 9

Silver Wind Accommodations
O2 Owner's Suite (Two Bedroom)
Cabin Size
827 sq ft (77 sq m)
Balcony Size
89 sq ft (9 sq m)
Decks
7
Description
The name says it all. A stylish apartment. Prestigious and classic. For those whose standards are higher than most. Large teak veranda with patio furniture and floor-to-ceiling glass doors; two bedroom has additional large picture window Living room with sitting area; two-bedroom has additional sitting area Separate dining area Twin beds or queen-sized bed; two-bedroom has additional twin beds or queen-sized bed Marbled bathroom with full-sized whirlpool tub; two-bedroom has additional marbled bathroom with shower Walk-in wardrobe(s) with personal safe Vanity table(s) with hair dryer Writing desk(s) Flat screen television(s) with DVD and satellite reception CD player with iPod dock Direct-dial telephone(s)
G2 Grand Suite (Two Bedroom)
Cabin Size
1,314 sq ft (123 sq m)
Balcony Size
100 sq ft (10 sq m)
Decks
7
Description
Expertly designed and exquisitely appointed. Ideal for entertaining friends or enjoying a quiet dinner "at home". Whatever you wish. Three teak verandas with patio furniture and floor-to-ceiling glass doors; two-bedroom has additional veranda Living room with sitting area; two-bedroom has additional sitting area Separate dining area Twin beds or queen-sized bed; two-bedroom has additional twin beds or queen-sized bed Marbled bathroom with full-sized whirlpool tub; two-bedroom has additional marbled bathroom with full-sized bath Walk-in wardrobe(s) with personal safe Vanity table(s) with hair dryer Writing desk(s) Flat screen television(s) with DVD and satellite reception CD player with iPod dock Direct-dial telephone(s) Complimentary daily newspaper of choice Direct-dial telephones
R2 Royal Suite (Two Bedroom)
Cabin Size
1,031 sq ft (96 sq m)
Balcony Size
100 sq ft (10 sq m)
Decks
6
Description
Stately. Commanding and majestic. Perfect for entertaining. Enough living space to roam. The pinnacle of good living.  Large teak veranda with patio furniture and floor-to-ceiling glass doors; two-bedroom has additional veranda Living room with sitting area; two-bedroom has additional sitting area Separate dining area Queen-sized bed (fixed); two-bedroom has additional queen-sized bed or twin beds Marbled bathroom with full-sized whirlpool tub; two-bedroom has additional marbled bathroom with full-sized bath Walk-in wardrobe(s) with personal safe Vanity table(s) with hair dryer Writing desk(s) Flat screen television(s) with DVD and satellite reception CD player with iPod dock Direct-dial telephone(s) Complimentary Butler service Complimentary laundry service throughout voyage* Afternoon canapés upon request Lavazza Espresso Maker Dinner at Officer's Table Multiple remote controlled TV/DVD with complimentary in-suite movie channels and DVDs Bang & Olufsen or Nakamichi 3-CD stereo Twice-daily suite service with turndown every evening Complimentary daily newspaper of choice Direct-dial telephones
O1 Owner's Suite (One Bedroom)
Cabin Size
587 sq ft (55 sq m)
Balcony Size
89 sq ft (9 sq m)
Decks
7
Description
The name says it all. A stylish apartment. Prestigious and classic. For those whose standards are higher than most. Large teak veranda with patio furniture and floor-to-ceiling glass doors; two bedroom has additional large picture window Living room with sitting area; two-bedroom has additional sitting area Separate dining area Twin beds or queen-sized bed; two-bedroom has additional twin beds or queen-sized bed Marbled bathroom with full-sized whirlpool tub; two-bedroom has additional marbled bathroom with shower Walk-in wardrobe(s) with personal safe Vanity table(s) with hair dryer Writing desk(s) Flat screen television(s) with DVD and satellite reception CD player with iPod dock Direct-dial telephone(s)
G1 Grand Suite (One Bedroom)
Cabin Size
1,019 sq ft (95 sq m)
Balcony Size
100 sq ft (10 sq m)
Decks
7
Description
Expertly designed and exquisitely appointed. Ideal for entertaining friends or enjoying a quiet dinner "at home". Whatever you wish. Three teak verandas with patio furniture and floor-to-ceiling glass doors; two-bedroom has additional veranda Living room with sitting area; two-bedroom has additional sitting area Separate dining area Twin beds or queen-sized bed; two-bedroom has additional twin beds or queen-sized bed Marbled bathroom with full-sized whirlpool tub; two-bedroom has additional marbled bathroom with full-sized bath Walk-in wardrobe(s) with personal safe Vanity table(s) with hair dryer Writing desk(s) Flat screen television(s) with DVD and satellite reception CD player with iPod dock Direct-dial telephone(s) Complimentary daily newspaper of choice Direct-dial telephones
R1 Royal Suite (One Bedroom)
Cabin Size
736 sq ft (69 sq m)
Balcony Size
100 sq ft (10 sq m)
Decks
6
Description
Stately. Commanding and majestic. Perfect for entertaining. Enough living space to roam. The pinnacle of good living.  Large teak veranda with patio furniture and floor-to-ceiling glass doors; two-bedroom has additional veranda Living room with sitting area; two-bedroom has additional sitting area Separate dining area Queen-sized bed (fixed); two-bedroom has additional queen-sized bed or twin beds Marbled bathroom with full-sized whirlpool tub; two-bedroom has additional marbled bathroom with full-sized bath Walk-in wardrobe(s) with personal safe Vanity table(s) with hair dryer Writing desk(s) Flat screen television(s) with DVD and satellite reception CD player with iPod dock Direct-dial telephone(s) Complimentary Butler service Complimentary laundry service throughout voyage* Afternoon canapés upon request Lavazza Espresso Maker Dinner at Officer's Table Multiple remote controlled TV/DVD with complimentary in-suite movie channels and DVDs Bang & Olufsen or Nakamichi 3-CD stereo Twice-daily suite service with turndown every evening Complimentary daily newspaper of choice Direct-dial telephones
SL Silver Suite
Cabin Size
541 sq ft (51 sq m)
Balcony Size
92 sq ft (9 sq m)
Decks
5, 6, 7
Description
Silver Suites accommodate three guests. Stylish and sophisticated. Separate dining and living rooms. Larger verandas. Situated midship. Perfection in design for comfortable living. Teak veranda with patio furniture and floor-to-ceiling glass doors Living room (with convertible sofa to accommodate an additional guest) Sitting area Separate dining area Twin beds or queen-sized bed Marbled bathroom with full-sized bath Walk-in wardrobe with personal safe Vanity table with hair dryer Writing desk Flat screen television(s) with DVD and satellite reception CD player with iPod dock Direct-dial telephone Twice-daily suite service with turndown every evening Daily news summary Direct-dial telephones
ME Medallion Suite
Cabin Size
490 sq ft (46 sq m)
Balcony Size
100 sq ft (10 sq m)
Decks
7
Description
A mark of distinction. Sumptuous. Spacious. Rich textures and panoramic views surround you with distinguished luxury. Large picture windows providing panoramic ocean views (Suite 741 only) Large teak veranda with patio furniture and floor-to-ceiling glass doors (Suites 801–804 only) Living room with sitting area Separate dining area (Suite 741 only) Twin beds or queen-sized bed Marbled bathroom with full-sized whirlpool tub and shower (Suite 741 has full-sized bath and shower) Walk-in wardrobe with personal safe Vanity table with hair dryer Writing desk Flat screen television with DVD and satellite reception CD player with iPod dock
DV Midship Veranda Suite
Cabin Size
295 sq ft (28 sq m)
Balcony Size
49 sq ft (5 sq m)
Decks
5, 6, 7
Description
The Midship Veranda Suite offers preferred central location with identical accommodation to a Veranda Suite. A Silversea signature. Spacious and welcoming. Floor-to-ceiling glass doors open onto a furnished private teak veranda. Each spectacular sunset feels like it is yours alone. Teak veranda with patio furniture and floor-to-ceiling glass doors Sitting area Twin beds or queen-sized bed Marbled bathroom with full-sized bath Walk-in wardrobe with personal safe Vanity table with hair dryer Writing desk Flat screen television with DVD and satellite reception DVD/CD player Direct-dial telephone
VR Veranda Suite
Cabin Size
295 sq ft (28 sq m)
Balcony Size
49 sq ft (5 sq m)
Decks
5, 6, 7
Description
Some Veranda Suites accommodate three guests. A Silversea signature. Spacious and welcoming. Floor-to-ceiling glass doors open onto a furnished private teak veranda. Each spectacular sunset feels like it is yours alone. Teak veranda with patio furniture and floor-to-ceiling glass doors Sitting area Twin beds or queen-sized bed Marbled bathroom with full-sized bath Walk-in wardrobe with personal safe Vanity table with hair dryer Writing desk Flat screen television with DVD and satellite reception DVD/CD player Direct-dial telephone
VI Vista Suite
Cabin Size
240 sq ft (23 sq m)
Decks
4, 5, 7
Description
Some Vista Suites accommodate three guests. A quiet sanctuary. The sitting area has plenty of room to relax. Large picture windows frame panoramic ocean views. The perfect backdrop for breakfast in bed. Large picture window providing panoramic ocean views Sitting area Twin beds or queen-sized bed Marbled bathroom with full-sized bath Walk-in wardrobe with personal safe Vanity table with hair dryer Writing desk Flat screen television with DVD and satellite reception Marbled bathroom with full-sized bath Direct-dial telephone Daily news summary